4x5.65, swing away Matte Box will also fit the Panasonic DVX-100 A/AE with Anamorphic Adapter installed
$ 75.00/day

(16:9 and 4:3)
$ 69.00/day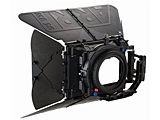 With the MB-20, ARRI is introducing the most flexible compact matte box available to the film and video production industry today. The MB-20 is an all-new compact wide angle matte box that accepts all HD zooms like the Canon 4.7x11 or the Fujinon 4,5x13, HD primes, small cine zooms and most cine prime lenses, including wide angle primes up to 14mm.
Call for a Quote

Discounted price with camera rental
Call for a Quote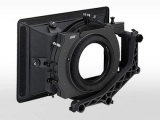 [
+ enlarge
]
The MB-14 production matte box is equipped with a 4x filter stage for four 6.6" x 6.6" push-through filters (rotatable in pairs). Two of the filter frames are toothed for operation by knob or flexible shaft. The 4x filter stage has a rear receptacle for 6", 138 mm or 40" filter rings, for anti-reflection rings and additional 4" x 4" filter stage. The 4x filter stage can be interchanged with other filter stages. For easy lens changing the matte box swings open 90° to the front. The lateral adjustment on the side of the matte box is equipped with a quick-set clamp. A holder for secure mounting of french flags is included.
$ 99.00/day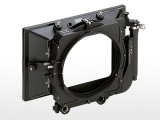 [
+ enlarge
]
ARRI's newest mattebox designed specifically to fit the Angenieux Optimo 24-290mm zoom in addition to prime lenses. One, three-stage mattebox can now cover both needs.
$ 79.00/day