Schneider Optics
Schneider Optics is the U.S. subsidiary of the world-renowned German optical manufacturer, Schneider-Kreuznach. Schneider has been producing the highest quality optics on the market for over 90 years, offering solutions for large-format photography, photo enlarging, motion picture projection, optical filtration, and industrial applications. In 2000, Schneider Optics acquired Century Precision Optics, adding its over 50 years experience manufacturing superior attachments for film and video.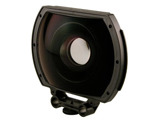 The Century Xtreme Fisheye produces extreme wide angle of view with profound barrel distortion. The Ultra wide Fisheye lens attachment offers the highest grade optics available with the widest field of view with very little barrel distortion. Horizontal field of view of view is approximately 160 degrees (180 degrees to the corners).

Applications include shooting action sports, underwater photography, music videos, or that dramatic impact shot in tight environments where capturing the field of view is otherwise impossible.

Includes HVX Matte box support which is required in order to fit the lens to camera.

Wide Angle Adapter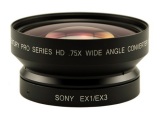 Schneider's Century .75X HD Wide Angle Converter is a newly designed, lighter weight optical tool for shooting situations that require both a wider angle of view and full zooming capabilities. The .75X HD Wide Angle Converter attaches to the front of the lens via the lens bayonet mount for 25% more coverage when set to wide angle, telephoto or anywhere in between. This new professional add-on lens produces crisp, high resolution images with low distortion and superior contrast edge to edge. The unit is front threaded to accept a 102mm filter.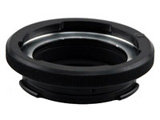 Use this lens adapter to make it possible for Broadcast lenses to be put on the JVC HD100/HD200 series cameras...then on a Jimmy Jib your lens is completely remoted just as if it were on a Betacam!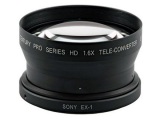 The Century Precision Optics 0HD-16TC-EX1 is a 1.6x Telephoto Converter Lens for the Sony PMW-EX1 camcorders. The lens bayonets directly to the zoom lens. The 1.6X HR Teleconverter instantly shifts the focal length range in the telephoto direction without light loss. This converter lens offers zoom through capability.

- This attachment provides a 1.6x telephoto extension of the camera lens.
- Partial zoom through capabilities are offered with optimum performance mid-range through full zoom.
- This converter was designed to attach directly to the Sony PMW-EX1.