4x5.65, swing away Matte Box will also fit the Panasonic DVX-100 A/AE with Anamorphic Adapter installed
$ 75.00/day

(16:9 and 4:3)
$ 69.00/day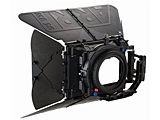 With the MB-20, ARRI is introducing the most flexible compact matte box available to the film and video production industry today. The MB-20 is an all-new compact wide angle matte box that accepts all HD zooms like the Canon 4.7x11 or the Fujinon 4,5x13, HD primes, small cine zooms and most cine prime lenses, including wide angle primes up to 14mm.
Call for a Quote

Discounted price with camera rental
Call for a Quote

4x4 for DV Century Precision with adapters for DVX100, PD150, PD170, XL1, XL1s etc.
$ 39.00/day

Will accept Anamorphic lenses.
$ 69.00/day