The Teradek Cube-150 1 Channel HD-SDI Encoder is a camera-top HD video encoder, and is suitable for on-set video monitoring as well as full-scale film production. It features HD-SDI (serial digital interface) input, dual band WiFi (2.4/5.8 GHz), and an external USB port. In addition, the cube encoder features line-of-sight (waves traveling straight line) WiFi range up to 300' (91m).

Featuring a setup wizard, the Cube 150 HD-SDI Encoder web interface simplifies configuration. You can create a network, log on to Cube's web interface, complete the setup wizard, and start streaming video after connecting video to the Cube system. The Cube 150 HD-SDI Encoder features H.264 High Profile (level 4.1) video compression to offer high video quality at lower bit rates.

Downscaling to lower resolutions is possible via a built-in scaler that allows for output streaming resolutions of 1080p/PsF, 1080i, 720p, and 480i. Based on available IP bandwidth, you can choose target bit rates (HD - 2 to 4Mbps, SD – sub-1Mbps) and a video resolution as required. The Cube encoder offers end-to-end latency (time delay) of 1/8-1/2 second.

With a small size and compact design, the Cube 150 HD-SDI Encoder can be mounted to a rail system, cage, hotshoe, or camera baseplate. In addition, it can be used with camera systems such as Red One, Arri Alexa, and Panavision Genesis. The Cube encoder requires only 2.5W DC power.
$ 149.00/day
This is the 250mW Canatrans Video Transmitter. Line of sight transmitting distance is roughly 1,000 feet. It has 6 user selectable NTSC UHF channels of 38-43. It measures 6"x3"x2" and weighs 17 oz. The unit is powered via a 4 pin XLR connector, 385 mA consumption @ 13.5 VDC. Video in is thru a BNC connector. Note that this transmits video only, not audio.
Call for a Quote
The IDX CW-5HD Cam-Wave HD is a wireless transmitter and receiver designed to connect HD video cameras to either a monitor or recording device. The system produces an uncompressed signal without the need to run any pesky cables, at a range of up to 150'. The transmitter can run off 1 V-Mount series battery or function off DC power through its 3-Pin XLR input. Weighing in at a little over 1.8 lbs, the CW-5HD provides premium high definition wireless support without adding additional bulk to the entire camera.

Uncompressed Wireless Signals
The CW-5HD transmits pristine video from either SD-SDI or HD-SDI, producing a completely uncompressed signal. The signal can then be fed into a field monitor, studio monitor, or recording deck. Additionally, video signals can be transmitted with 256-bit encryption, making sure there are no "prying eyes".

Instant Transmission
The CW-5HD has less than a 1ms latency between transmitting and receiving.


Download:
Operation Manual
$ 299.00/day
The first multi-directional Microwave Wireless Transmitter and receiver system
broadcasting through obstacles without desynchronization of the video picture.
- ideal for all Body-rig operators; the signal remains stable even both the Transmitter and the Receiver are in motion.
- very user friendly: the 4 channels are pre-dialed and accessible with the flip of a switch. No tools required.
- transmits & receives NTSC, PAL and SECAM color signals as well Black and White.
- operates on 9-36 V DC via Lemo 2 or Hirose 6 connectors. The Hirose 6 connector carries video out (Receiver) or video in (Transmitter) and accepts DC in.
- Transmitter and Receiver weigh 7oz (200g) each. Very compact they can be easily velcroed to any camera or monitor.
- 2.4Ghz channels:
A= 2.4125 Ghz
B= 2.4275 Ghz
C= 2.4425 Ghz
D= 2.4575 Ghz
$ 99.00/day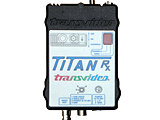 4 channel wireless video receiver for above transmitter.
$ 99.00/day
Two channel, portable wireless video monitor system.
Includes:
(1) custom cigarette girl tray
(2) Titan 2.4Ghz video transmitters
(2) Titan 2.4Ghz video receivers
(2) LCD monitors (5-8 inches)
(3) lithium long life Anton Bauer type batteries
(1) battery charger

*girl not included
$ 499.00/day
Single channel, portable wireless video monitor system.
Includes:
(1) custom cigarette girl tray
(1) Titan 2.4Ghz video transmitter
(1) Titan 2.4Ghz video receiver
(1) LCD monitor (5-8 inches)
(2) lithium long life Anton Bauer type batteries
(1) battery charger

*girl not included
$ 299.00/day
UHF wireless video transmitter
$ 99.00/day
Includes one transmitter
$ 149.00/day
$ 99.00/day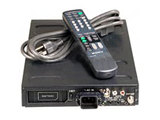 The Sony TU-1041 is the television tuner component for industrial and broadcast monitors. With a simple 1 button selection, the TU-1041 tuner can be automatically programmed to tune in all receivable channels, from lowest frequency to the highest.
- Manual or automatic fine tuning
- Uses an internal NP-1 battery
- 4-pin XLR connector for external DC battery belt.
$ 69.00/day