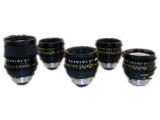 (T1.3) 18mm, 25mm, 35mm, 50mm, 85mm
All PL Mount
$ 395.00/day

Discounted price with camera rental
Call for a Quote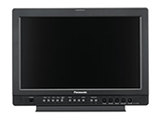 The BT-LH1700W 17" widescreen production-quality monitor features two auto-switching SDI / HD-SDI inputs, waveform monitoring, and freeze frame/split screen functions. Desk stand is included.


Download:
PDF, Operating Manual
$ 199.00/day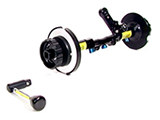 The Chrosziel 203-01 is a follow focus designed for film and video cameras. The unique system allows easy operation from both sides, making it highly accessible in a variety of situations. The follow focus makes critical focus pulling a breeze.

Markings on the focus wheel give about 110-140° of rotation on the lens, spreading the angle to the focus knob by a factor of two. Precision focus pulling cannot only be achieved with remarkable accuracy; it can also be recreated over and over with very little deviation from take to take. The kit comes with all necessary parts, including a removable hand wheel, focus level, and wheel scale.
$ 69.00/day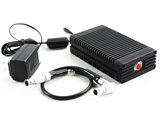 Made of two 160GB Drives that are Striped as a RAID 0 for speed. Capable of recording between two and three hours of 4K REDCODE™ RAW footage. Use with the RED ONE.

Kit includes 320GB drive, RED Lemo cable, 6ft Firewire 800 cable, Raid AC cable
$ 99.00/day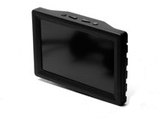 $ 89.00/day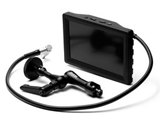 Includes LCD, 5" RED arm, 1ft RED Lemo Cable
$ 99.00/day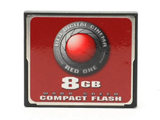 $ 15.00/day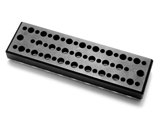 $ 12.00/day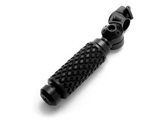 $ 10.00/day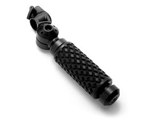 $ 10.00/day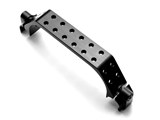 - Connects from top 19mm RODS to bottom 19mm RODS
- Mount a variety of hardware (eg, RED LCD, RED EVF, etc)
$ 49.00/day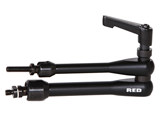 9-inch adjustable mounting arm for EVF and LCD
$ 12.00/day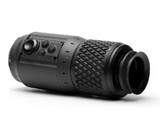 - Content: 720P color image plus GUI
- Resolution (color): 24-bit RGB, expandable to 30-bit at default Dark Detail setting
- Colorimetry: Rec. 709 (nominal)
- Dynamic range: 500:1 typical at default Dark Detail setting
- Display rate: Up to 60 FPS (depending on display mode)
- Display modes: Free run (60 FPS independent of camera shutter speed), Synchronous (integer multiple of camera shutter speed), and Open Gate (images at 2x camera shutter speed for follow-focus work. NOTE: With camera at 23.98 / 24 / 25 / 30 FPS and shutter angle < 180 degrees)
- Resolution (pixels): 1280 (wide) x 848 (high) full-color
- Eyepiece optics: Fully coated with – 2.5 to + 1.5 diopter correction range
$ 149.00/day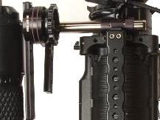 The EVF Mounting System provides a secure mounting interface on either style of top bracket as well as 4" of vertical adjustment and 6" of telescoping adjustment along the viewfinder axis. In addition to the linear adjustment, it also provides a rugged clutch that allows the viewfinder to be tilted to almost any angle. It will stay where you put it regardless of shooting environment. All adjustments including clutch drag are easily adjusted on-the-fly without tools. The integral handle/battery bracket is adjustable in length and angle to allow proper balance. It is also tapped to allow easy rigging of accessories and Steadicam low mode mounts.
$ 49.00/day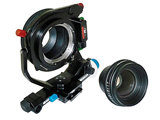 The Arri Shift & Tilt lens system is an articulating bellows lens mount that allows the lens to be positioned separately from the camera in five different directions. This allows angles to be shifted, parallel lines to be aligned and selective focus within the image plane. It is a unique optical system that achieves images impossible any other way.

Included in the set are four lenses, 24mm T4, 45mm T2.8, 90mm T2.8 and 110mm T2. The system works with any PL mount camera including 35mm film, 16mm film, 35mm lens adapters for video cameras and Digital Cinema cameras with single sensor imagers.
$ 349.00/day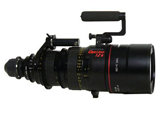 The Angenieux Optimo 24-290 is the industry standard for high performance optical quality, offering brilliant clarity in an extreme focal range at a fast aperture.

- Zoom ratio: 12x
- Focal length: 24-290mm
- Aperture: T2.8
- MOD: two feet (.6m)
- Weight: 24 lbs. (11kg)
- Front diameter: 162mm
$ 495.00/day