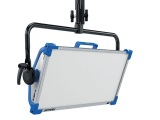 ARRI continues to broaden their LED line and reaffirm their commitment to accurate color rendering with the introduction of the SkyPanel S60-C LED Softlight. Supported by a steel yoke, the panel surface area measures 25.4 x 11.8" and employs interchangeable thermoplastic diffusers that range from Lite to Heavy to soften the light and wrap its output around your subject. The SkyPort outputs the equivalent of a 2,000W tungsten soft light while drawing a maximum of only 450W.

Using technology originally designed for the L7-C Fresnel, the SkyPanel S60-C is fully color "tuneable" allowing output of a warm 2,800K to icy blue 10,000K light and also uses the full RGB+W color gamut with hue and saturation control for fine adjustments. Full Minusgreen to Full Plusgreen is also possible, so if you're lighting for blue or greenscreen, you can simply dial your color chosen in. This wide degree of control is responsible for a very high CRI of 95 and a rating of 90 with the newer TLCI standard. All of these functions as well as 0-100% dimming can be adjusted locally with the SkyPanel's onboard controller or remotely via DMX or a LAN. Besides inputs and outputs appropriate to these functions, the light also has a USB-A port for downloading firmware upgrades from a thumb drive, PC or Mac.

**** Rental Includes Chimera ****

Features:
- Manual Yoke
- Panel Surface Area: 25.4 x 11.8"
- 115 Beam Spread, Rail Mount Adapter
- Color Temperature from 2,800-10,000K
- Full Gamut Color Mixing
- Hue and Saturation Control
- Full Minus to Full Plusgreen
- 0-100% Dimming, DMX Control
- CRI: 95, TLCI: 90
- Multi-Voltage AC, Optional Battery Power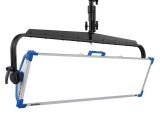 ARRI continues to broaden their LED line and reaffirm their commitment to accurate color rendering with the introduction of the SkyPanel S120-C LED Softlight. Supported by a steel yoke, the panel surface area measures 50.8 x 11.8" and employs interchangeable thermoplastic diffusers that range from Lite to Heavy to soften the light and wrap its output around your subject. The SkyPort outputs the equivalent of a 2,000W tungsten soft light while drawing a maximum of only 450W.

Using technology originally designed for the L7-C Fresnel, the SkyPanel S120-C is fully color "tuneable" allowing output of a warm 2,800K to icy blue 10,000K light and also uses the full RGB+W color gamut with hue and saturation control for fine adjustments. Full Minusgreen to Full Plusgreen is also possible, so if you're lighting for blue or greenscreen, you can simply dial your color chosen in. This wide degree of control is responsible for a very high CRI of 95 and a rating of 90 with the newer TLCI standard. All of these functions as well as 0-100% dimming can be adjusted locally with the SkyPanel's onboard controller or remotely via DMX or a LAN. Besides inputs and outputs appropriate to these functions, the light also has a USB-A port for downloading firmware upgrades from a thumb drive, PC or Mac.

Features:
- Manual Yoke
- Panel Surface Area: 50.8 x 11.8"
- 115 Beam Spread, Rail Mount Adapter
- Color Temperature from 2,800-10,000K
- Full Gamut Color Mixing
- Hue and Saturation Control
- Full Minus to Full Plusgreen
- 0-100% Dimming, DMX Control
- CRI: 95, TLCI: 90
- Multi-Voltage AC, Optional Battery Power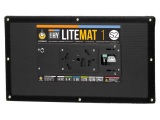 S2 LiteMat is a unique and lightweight LED lighting fixture system designed for cinema, television, and HD video. Born out of the need for a Color-Correct light source that is both lightweight yet durable, high quality yet economical, and simple yet cleverly fashioned, the system takes an unusual approach to lighting. By providing evenly spaced, Color-Correct LEDs spread out over a large area, S2 LiteMat creates soft light without requiring diffusion. This "soft-through-pixelization" method allows the unit to achieve surprisingly bright light levels while remaining under 1 in. (25 mm) thick in size and just 2.2 lb (1 kg) in weight.

Kit Includes:
LiteMat™:
(1) LiteMat™ 1, Hybrid, 11.5" x 21"

LiteMat™ Accessories:
(1) LiteMat™ 1 PolySkirt™
(1) LiteMat™ 1 Diffuser, Quarter "Grid"
(1) LiteMat™ 1 Diffuser, Half "Grid"
(1) LiteMat™ 1 Diffuser, Full "Magic Cloth"
(1) LiteMat™ 1 Parasquare® Louver
(1) LiteMat™ 1 Center Mount, Short
(1) LiteMat™ 1 KitBag™

LiteDimmer™:
(1) LiteDimmer™ Pro Hybrid

LitePower™:
(1) LitePower™ Supply, 8A

Additional Gear:
(1) Hybrid Extension, 12 Feet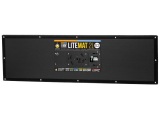 S2 LiteMat is a unique and lightweight LED lighting fixture system designed for cinema, television, and HD video. Born out of the need for a Color-Correct light source that is both lightweight yet durable, high quality yet economical, and simple yet cleverly fashioned, the system takes an unusual approach to lighting. By providing evenly spaced, Color-Correct LEDs spread out over a large area, S2 LiteMat creates soft light without requiring diffusion. This "soft-through-pixelization" method allows the unit to achieve surprisingly bright light levels while remaining under 1 in. (25 mm) thick in size and just 2.2 lb (1 kg) in weight.

Kit Includes:
LiteMat™:
(1) LiteMat™ 2L, Hybrid, 11.5" x 40"

LiteMat™ Accessories:
(1) LiteMat™ 2L PolySkirt™
(1) LiteMat™ 2L Diffuser, Quarter "Grid"
(1) LiteMat™ 2L Diffuser, Half "Grid"
(1) LiteMat™ 2L Diffuser, Full "Magic Cloth"
(1) LiteMat™ 2L Parasquare® Louver
(1) LiteMat™ 2L Center Mount, Short
(1) LiteMat™ 2L KitBag™

LiteDimmer™:
(1) LiteDimmer™ Pro Hybrid

LitePower™:
(1) LitePower™ Supply, 8A

Additional Gear:
(1) Hybrid Extension, 12 Feet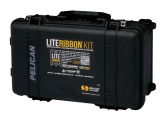 Our new line of LiteRibbon(R) Kits has been personally designed by professional Hollywood set lighting technicians to accommodate almost every need and every budget. For LiteGear(TM) newcomers and veterans alike, each kit contains the essentials for installing and controlling your LiteRibbon(R). LiteRibbon(R) Pro Kits make perfect additions to any set lighting truck and are even great for anyone from DOPs to set decorators who need specialty lighting at their fingertips.

The Car Kit includes specifically selected lengths of VHO Pro LiteRibbon(R) to fit into elements of a vehicle's interior such as Rear-View Mirror - 60-X3, 5.2", Side-View Mirror - 120-X6, 4.9", Sun Visor - 60-X6, 9.8", Dome Light - 120-X6, 4.9", Steering Wheel Fill Light - 60-X6, 4.9", Front Passenger Fill - 60-X6, 9.8", Rear Passenger Fill - 60-X6, 4.9", Center Console Fill - 60-X6, 9.8", DashBoard Augmentation - 60-X3, 9.8", Center Stack Augmentation - 60-X3, 9.8", Driver/Passenger Backlight - LSP 6", Rear Passenger Backlight - LSP 12", Overhead Ambient - 60-X6, 19", Windshield Interior Fill - 60-X1, 49", Trunk Light - 120-X3, 9.8".

Kit Includes:
(1) Pelican(TM) 1510 Case (CASE-PELKIT-1510)

LiteRibbon(R) Pro*:
(1) 120-X3, 0.25 m (9.8 in.)
(3) 120-X6, 0.125 m (4.9 in.)
(1) 60-X1, 1.25 m (49.2 in.)
(1) 60-X3, 0.133 m (5.25 in.)
(2) 60-X3, 0.25 m (9.8 in.)
(3) 60-X6, 0.133 m (5.25 in.)
(4) 60-X6, 0.25 m (9.8 in.)
(1) 60-X6, 0.5 m (19.7 in.)

LiteRibbon(R) Chroma:
(1) Red 120, 0.625 m (24.6 in.)

LiteStix(TM) Pro*:
(2) 15 cm (6 in.)
(2) 30 cm (12 in.)

LitePower(TM)**:
(2) Power Packs

Additional Gear:
(1) DTAP Battery Adapter
(1) Barrel EightFer
(1) Ribbon Tape, 0.5 in. x 5 yd
(1) VHB Tape, 0.5 in. x 5 yd
(1) Velcro, 2 in. x 1 ft, Hook
(1) Velcro, 2 in. x 1 ft, Loop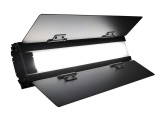 FloLight's BladeLight is a Professional Video and Photography Open Faced COB (Chip on Board) LED Light, that outperforms standard Panel LED, and SoftPanel LED Lights with it's Linear LED Form Factor, Incredibly High CRI Rating of 96, Focusable Beam angle from 120 Flood Light to a 20 Spot light, with incredible LUX Output of 13,000 (avg) at 1 meter (Around 3 Feet).

The BladeLight 18" and 36" versions allows the BladeLight to act like a Longer tube fluorescent lighting solution. Placing diffusion on the Barndoors, or Silks in front of the BladeLight create a much stronger Soft Panel LED lighting solution.

Unlike standard Softpanel LED Lighting solutions, the BladeLight is also flexible to offer incredible sharp cuts, by shaping the light with the included barn doors. Standard LED Panels have slotted shadows (Muliple shadows) when you cut the light with their attached Barndoors or Flags. Soft Panel LED's simply cannot have an effective cut, because of the nature of diffused light.

You can control light output with a manual dimmer or through any IOS or Android device via Bluetooth 4.0 control. Dim individual lights or dim by groups. Turn all on/off with a single click. Create preset scenes for recall later for perfectly matched shots.

Read more...