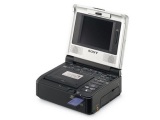 The GVD-1000E is a compact and portable PAL DV Video Walkman for playing, recording and edit your PAL DV footage. Use mini DV cassettes and Memory Stick images or MPEG videos to put together a visual story. You can edit or playback movies anywhere, any time - even through your PC. Edit your still or moving videos with USB Image Capture and ImageMixer software-- one of Sony's latest digital editing functions. The GVD-1000 makes it easier than ever to edit as a side-by-side companion to your mini DV camcorder. Or you can use the GVD-1000 as a VCR and connect to any television to playback your videos. Incorporates a 4" LCD monitor for clear, crisp color images, with a built in stereo speaker.

Features:
- 4" LCD Screen Display (123K Pixels)
- Up to 530 Horizontal Lines of Video Resolution
- Digital Picture Effects
- USB Streaming
- Built-in Memory Stick® terminal for still image capture
- i.Link (DV IN/OUT) DV Interface
- S-video In/Output
- Precision Assemble Editing with Optional DSRM-E1 (99 Segment x 4) USB Interface
- Cassette Memory
- MPEG Movie Mode allows you to capture MPEG1 video directly to Memory Stick® media
- Analog to Digital conversion with pass through
- 12-Bit/16-Bit PCM Digital Stereo
- SP and LP Record/Playback
- Playback Zoom
- Print Mark
- Crystal Clear Still/Slow Motion Playback
- Drop Frame Time Code
- Index Titler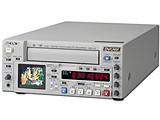 The DSR-45 is a new versatile DVCAM digital video recorder that is perhaps the best in its class. Whether editing weddings, corporate training videos or cable television programs, the DSR-45 gets the job done in a timely manner with professional results. Its i.LINK(R) interface allows seamless integration into compatible DV-based editing suites. In addition, analog component connectors allow the unit to accept and transfer high-quality video and audio. For external control, the DSR-45 comes standard with RS-422A and RS-232C interfaces. Equipped with a 2-inch built-in LCD, the DSR-45 displays information including: audio level, system status, and the working image as they are needed. The DSR-45 is the videocassette recorder of choice for small to medium-sized production houses.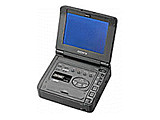 Portable NTSC clamshell VTR w/LCD Screen Sony Tuner TGV-100 is available as video receiver.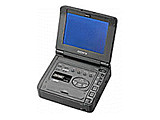 Portable clamshell VTR w/LCD Screen, NP960 batteries and fast charger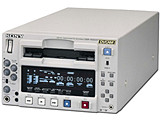 The DSR-1500A incorporates the same innovative, high standard technology featured in the DSR-2000 into a compact, half-rack width design. The space-saving size makes the DSR-1500 ideal for such installations as in OB vehicles and with desktop editing systems. A key feature of the DSR-1500 is its recording and playback compatibility of consumer DV (SP mode only) in addition to DVCAM as well as playback capability of DVCPRO 25 Mbps recordings, and its ability to automatically accommodate all standardized cassette sizes without the need for an adapter or changing menu settings.

The DSR-1500A comes equipped with a 6-pin i.LINK IEEE 1394 DV I/O connection allowing it to be immediately integrated into non-linear systems with connection compatibility. By configuring the DSR-1500A from either or both of its optional interface boards, it can be equipped to meet a broad range of professional user requirements.

- Includes DSBK-1505 Analog input board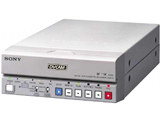 The Sony DSR-11 DVCAM player/recorder can be easily integrated into your existing non-linear editing system. Providing basic VTR functions, the deck features Firewire connectivity and NTSC and PAL compatibility. This makes the DSR-11 a powerful and cost effective solution to computer based editing systems.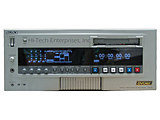 FEATURES:
- DVCAM and DV format playback
- SDI interface - The SDI (Serial Digital Interface) which conforms to the SMPTE 259M broadcast standard, is supported by the optional DSBK-120 SDI I/O Board for simple connection with SDI equipped devices such as Digital BETACAM VTRs.
- Built-in SMPTE Time Code Generator/Reader A built-in time code generator and reader are in the DSR-80 to offer precise video editing. The time code conforms to the SMPTE standard. Time code written in the sub code is controlled via the RS-422A interface port. Input/output of time code is possible with the optional DSBK-130 Time Code Input/Output Board, with which this deck is equipped.
- Jog audio, digital slow function, high speed search
- Legible Front Panel Display - Large, highly visible display on front panel that shows a variety of information such as audio and video input mode, normal/high speed modes, ClipLink data, and cassette memory status
- Analog inputs and outputs - compatibility with conventional analog equipment, such as Betacam SP, Hi-8, and S-VHS for a smooth and gradual transition to digital systems. For video, composite, component and S-video connections are provided. Four channel or two channel (selectable) inputs and outputs are provided for audio.
- Built-in Time Base Corrector (TBC) - highly stable video signals for all analog outputs. Sync and SC phase adjustment is made from the front panel, while the TBC control is possible with the optional UVR-60 TBC Remote Control Unit or other standard TBC remote.
- SDTI (QSDI) I/O connectors - handles compressed video, as well as sub code data and digital audio signals of the DVCAM recording format in 4 times the speed of real time. The QSDI interface allows degradation-free transfer of both video and audio signals.
- DVCAM component digital recording format
- Dual cassette capability (standard/mini)
- Plays/Records up to 3 hours