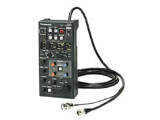 Panasonic Remote Set-Up Controller for DVCPRO, DVCPRO50 and DVCPRO HD Camcorders. Access camera settings, iris control, menus and VTR transport controls via a small, control panel that can used up to 100 feet away.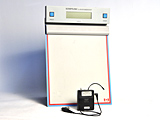 The Scriptlinc by Katamount is a high-tech clipboard with an integrated wireless receiver and time code reader, created with both script and production notes in mind.

Large LCD numbers and easily accessible buttons make this key task easy to perform accurately without disturbing the rest of the crew. The complete Scriptlinc system includes a compact light-weight transmitter that can be attached to the sound or video recorder to send the time code to the clipboard reader/receiver, as well as an input cable and soft carry case. You'll surely save time on set and in post production with the Scriptlinc time code system.

Features Include:
- Integrated wireless receiver and timecode reader
- Automatic frame rate selection
- 3.5mm (1/8") input connector for optional hardwired use
- 19mm (3/4") high LCD display for excellent visibility
- Low power consumption (4 AAA cells last 36 hours!)
- "Hold" buttons freeze the time code display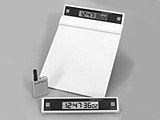 The Scriptboy is the ideal production assistant's assistant. It provides a large, clear readout of timecode from the camera at distances of up to 100 metres, without cables - and without having to ask the cameraman "what's the code?" A small battery-powered transmitter is attached to the camera and fed with LTC timecode in EBU or SMPTE, dropframe or non-dropframe format. This is transmitted to the Scriptboy clipboard which automatically detects the format and decodes the signal for display. The display reading can be frozen so that accurate timecode can be recorded on continuity notes or script.

Presentation onscreen writer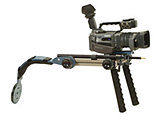 This versatile shock-absorbing support for DV cameras adjusts to accommodate various body types, camera weights, and shooting styles. Fluid tilt and adjustable suspension enable smooth, mobile acquisition. Great for hand-held shooting. (Camera not included)

Read more...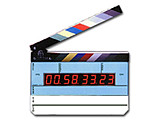 The Deneke TS-3 Time Code Slate reads and displays SMPTE/EBU Time Code; it utilizes an internally mounted SB-2 Syncbox Time Code Generator. This unit Jams to all standard frame rates, including 30 df; user bits jam automatically when the time is set. The high stability crystal ensures low drift and now comes standard with the TCXO option for extreme temperature ranges.

EL Backlit Display
The EL Backlit Display is particularly useful during night shoots and on dimly lit stages.

Flat Back
This slate features a flat back for easy holding; also has a removable plate for holding camera logs.

Voltage Readout
A battery voltage readout and low battery warning keep the user informed.

Error Warning
A Sync Error warning lets the user know different frame rates are being input.

Automatic
The incoming frame rate is read and the reader automatically sets to that frame rate.

Logging
A logging feature allows the user to scroll back through the last 16 time code claps.

TCXO
The high stability Temperature Compensated Crystal Oscillator ensures low drift and is standard on the TS-3.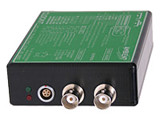 The Clockit, called "Lockit" by many, is a small, highly accurate portable timecode and colour videosync and wordclock generator. Audio and video machines such as DAT recorders, and Betacams can be genlocked to the Clockit Box, thus giving a very low drift between equipment working together. Typically, the drift will be less than 1 frame per day, without connecting cables or radio links. The Clockit can be jamsynced with external timecode, or set with Aaton ASCII code. The Clockit is especially useful in multicamera Betacam shoots, where a Clockit on each camera and one on the audio recorder will reduce drift between machines to under one frame a day.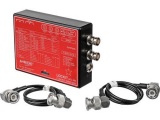 The Ambient ACL 203 Tri-Level Sync Lockit Set is a time code device designed for use with HDV cameras. It supports a variety of HD video formats, as well as sample-rate-based synching for audio recorders in world clock and black audio up to 192KHz. The unit features (3) rotary encoders that control function blocks, sync format, sync frequency, and time-code frame rate. These controls allow for simple dialing even with exotic variants of pull-up/pull-down or cross jam modes.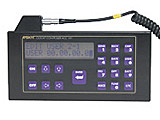 The Ambient Controller is an extremely accurate portable master clock and timecode generator/reader. It can can be used to jam, read, identify, and compare all timecodes. All framerates are supported and the frame rate can be changed without losing time of day, enabling a camera running at 24 frames, and a recorder running at 25 or 30 frames to be jamsynced.

The Controller can also be used to check and calibrate the crystal oscillators of the Ambient range of time code products in the studio or field, giving unsurpassed accuracy. Its internal crystal oscillator can be calibrated from four different external sources: external timecode, another Ambient unit, GPS satellite, or DCF radio clock. Once calibrated, the controller becomes a portable timecode master clock with an accuracy of 0.2 ppm.

4:3/16:9 Digital Aspect Ratio Flat screen NTSC/PAL With pro connector box on back. Includes Sony power system with two batteries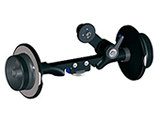 Easy markings on the Focus scale offers you control for your focus points. Focus marks on video lens have a rotating angle of approximately 110 - 144 on the lens. The Studio Rig/Follow Focus system spreads this angle to approximately 2 - 2.5 times on the handwheel. Includes whip and right side.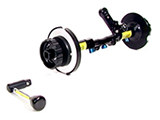 The Chrosziel 203-01 is a follow focus designed for film and video cameras. The unique system allows easy operation from both sides, making it highly accessible in a variety of situations. The follow focus makes critical focus pulling a breeze.

Markings on the focus wheel give about 110-140 of rotation on the lens, spreading the angle to the focus knob by a factor of two. Precision focus pulling cannot only be achieved with remarkable accuracy; it can also be recreated over and over with very little deviation from take to take. The kit comes with all necessary parts, including a removable hand wheel, focus level, and wheel scale.

creates clear scan capability in cameras with companion circuit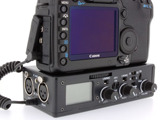 The DXA-5D provides an easy way to connect professional microphones and other audio gear to the Canon 5D Mark II camera. It is now possible to capture professional sound with control and monitoring ability.

The DXA-5D features dual transformer-balanced XLR inputs with phantom power and built-in level meters. In addition, the built-in headphone jack allows the user to monitor the audio - a feature missing on this camera. The trim controls allow the user to dial in the proper signal levels for optimum recording quality.

Most importantly, is the unique AGC Disable function which was the most sought after feature by users of this camera. The AGC Disable circuit is activated by a switch which controls the wild swings of the Auto Gain Control in the camera to reduce the hiss generated by the preamplifiers during quiet moments of recording. It works by sending a high frequency inaudible tone to the left channel of the camera. This feature greatly decreases the camera noise which has always been a problem in the past.

Camera Rental Not Included


Download:
PDF, Operator's manual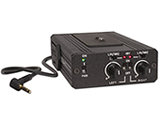 The BeachTek DXA-6 Has all the features of our popular DXA-4 adapters with the addition of 48 volt phantom power on both channels. Works with any stereo camcorder. This adapter is designed to easily attach balanced or unbalanced type microphones to any camcorder with a MIC jack. The DXA-6 gives you all the benefits of using balanced audio devices for clean audio as well as control over the signal levels to ensure the best possible sound.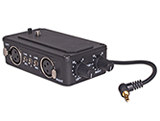 The BeachTek DXA-4 is a two channel transformer balanced XLR adapter for today's small, compact camcorders. This adapter is designed to easily attach balanced or unbalanced type microphones to any camcorder with a MIC jack. The DXA-4 gives you all the benefits of using balanced audio devices for clean audio as well as control over the signal levels to ensure the best possible sound.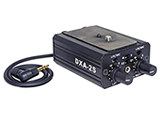 The BeachTek DXA-2s is a two channel transformer balanced XLR adapter for today's small, compact camcorders. This adapter is designed to easily attach balanced or unbalanced type microphones to any camcorder with a MIC jack. The DXA-2s gives you all the benefits of using balanced audio devices for clean audio as well as control over the signal levels to ensure the best possible sound.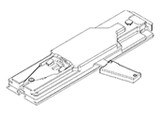 Universal Quick Lock Plate for Sony and Panasonic HD Cameras and Camcorders.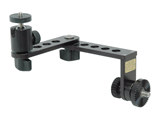 By mounting the FHS-LCD Monitor Arm to either the left or right handle rosette of your fluid head, you can now position an LCD monitor or a 6" HD/SD waveform & vector scope monitor right where you want it for easy viewing. Great for studio and field work. Go from viewing a large LCD at working level to hand held work without having to dismount monitor from the fluid head.
- Made from solid aircraft aluminum.
- Quick, easy, solid.
- Weight: 13.8 oz (390 grams)
- Extended Length: 9" (23 cm)
- Supports up to 5 lbs (2.2 kg)
- Works with most Sachtler fluid heads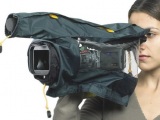 CRC-14 is the perfect compact rain cover for HDV camcorders such as the Canon XH A1, G1, Sony V1, VX2100, PD170, Panasonic DVX100 and similar.

It features quick and easy set up, pull tight cords, Hook & Loop strips all along the rim for rapid opening and closing, and a full size transparent window to monitor all controls when working.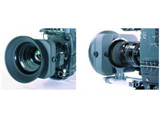 The revolutionary lens accessory for
professional video and film cameras. Used in news, sports, nature and other
field productions to remove the visual
interference of rain and snow on the lens.
- Instantly deflects rain and snow
- No gyro effect when panning/tilting
- Fits practically all video and film lenses
- Low power consumption
- Fast on/off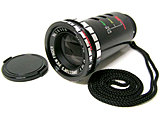 Manufactured by Alan Gordon Enterprises, the Mark Vb is the latest version of the Academy Award Winning Mark V and continues to be the choice of Film and Video makers world wide. The Mark Vb has all the features of the Mark V plus new markings on the Aspect Ratio ring, making it easer to read for both film and video use. We also eliminated the 1/2 " video window and replaced it with the current video chip standard of 2/3." Film sizes and video formats are color-coded for quick reading.

12:1 Zoom Ratio Ring: Smooth zooming from wide angle to telephoto. Focal lengths are viewed in windows located on the barrel of the viewfinder. The zoom range for the various formats is as follows:

Zoom Ranges:
Film
- 16mm film: 8.5-100mm
- Super 16 film: 10.5-125mm
- 35mm film: 18-200mm
- 35 Anamorphic film: 35-420mm

Video
- 2/3" video: 8.5-75mm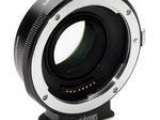 Product Highlights

■Canon EF Lens to Sony NEX Adapter
■Increases Maximum Aperture 1 Stop
■Increases Angle of View by 0.71x

The Canon EF Lens to Sony NEX Camera Speed Booster from Metabones allows Canon EF lenses to be mounted to Sony E-Mount APS-C format cameras, increasing the angle of view and the maximum aperture of the lens by 1 f-stop. This photo accessory also comes with a detachable tripod foot that is compatible with Arca Swiss, Markins, and Photo Clam ball heads.

The Speed Booster condenses light from the lens and projects it onto the APS-C sensor without vignetting; this allows the sensor to capture all of the lens' transmitted light and effectively produce full-frame coverage on non-full-frame sensors. A corresponding increase in the maximum aperture of 1 stop makes the lens more effective in low-light situations and able to create a shallow depth of field.

Metabones' Speed Boosters are made of machined brass, finished in satin black, the camera-body, and chromium-plated on both mounts to ensure smooth mounting and reliability.

These speed boosters are only fully compatible with mirrorless cameras housing APS-C or smaller image sensors. They will physically fit the Sony A7/A7R full frame mirrorless cameras but the camera must be set in Crop Mode to fully support the speed booster's functions.




Allows Canon EF lens to be mounted to Sony E-Mount camera
Increases the angle of view and maximum aperture by 1 stop
Electronic integration of aperture diaphragm controlled from the camera body.
Reaches infinity focus while maintaining the correct registration distance
Precision-machined and chromium-plated brass lens and camera mounts
Matte-black interior finish reduces internal reflection and helps preserve image quality
Detachable tripod foot compatible with Arca Swiss, Markins, and Photo Clam ball heads
Satin black finish exterior .

Mount Types Lens Mount: Canon EF

Camera Mount: Sony E-Mount

Magnification 0.71x
Maximum Input/Output Aperture Input: f/1.26

Output: f/0.90

Lens Elements/Groups 4 / 4
Dimensions 2.7 x 1.1" (69 x 27 mm) without tripod mount
Weight 6.8 oz (194 g)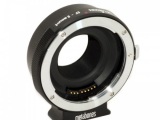 This Smart AdapterTM has the following features:



True electronic integration of aperture diaphragm - let camera automatically choose aperture in P or S exposure modes, or dial in yourself on the camera body in A or M modes.
Powered by camera body. No external power source required.
Wide open button (opposite of depth-of-field preview function) makes manual focusing easy.
The tripod foot is detachable and compatible with Arca Swiss, Markins, Photo cam ball heads.
High performance 32-bit processor and efficient switched-mode power supply.

Smart Adapter Mark II is NOT compatible with full-frame camera bodies such as A7, A7R and NEX-VG900. Please choose the newer Smart Adapter Mark III for full-frame Sony cameras.

Supported
EF lenses (see below for list of tested lenses)

EF-S lenses (see note 1)

Image stabilization (IS) (see note 2)

Electronic manual focusing (e.g. EF 85/1.2L II and discontinued EF 50/1.0L)

EXIF (focal length, aperture, zoom range)

P, A, S, M exposure modes

Autofocus (see autofocus support section below)

Distance and zoom display on VG and FS series camcorders (see note 3)

Auto magnify (see note 3)

Contax N mount lenses modified to Canon EF by Conurus

Contax 645 NAM-1 adapter modified to Canon EF by Conurus

Sigma, Tamron and Tokina lenses in Canon EF mount

Not supported
Lens correction such as peripheral shading, CA and distortion

Focus confirmation "chip" (e.g. Dandelion)

Stacking another lens mount adapter on top (see note 4)

NEX-VG900

Note:

1.Vignetting at corners may occur for certain EF-S lenses because they are designed to cover a 1.6x crop image circle but Sony NEX has a 1.5x crop sensor.
2.Image Stabilization lens?requires adapter firmware version 02 or above.
3.Requires lenses supporting distance information.
4.A third party zoom lens may need to be registered with the Smart Adapter first in order to detect its maximum aperture. Autofocus is disabled for most third-party lenses.
5.For example, some improperly-made M42 screw mount adapters may cause a short-circuit with the electronic contacts of the Smart Adapter??and cause damage to the Smart Adapter??and/or camera body.?

Tested Camera Bodies
NEX-FS700 (autofocus works only in photo mode, but is disabled in movie capture mode)
NEX-FS100 (autofocus works only in photo mode, but is disabled in movie capture mode)
NEX-EA50
NEX-VG30
NEX-VG20
NEX-VG10
NEX-7
NEX-6
NEX-5R
NEX-5N
NEX-5
NEX-C3
NEX-3

Tested Lenses
The following lenses have been tested for autofocus operation. Minimum firmware version required shown in parenthesis.

Canon EF primes
EF 14/2.8L II USM
EF 24/1.4L II USM
EF 24/2.8 IS USM
EF 35/1.4L USM (Ver.19)
EF 50/1.2L USM
EF 85/1.2L II USM
EF 85/1.8 USM (Ver.18)
EF 100/2.8 USM macro (Ver.17)
EF 135/2L USM (Ver.17)
EF 200/2.8L II USM (Ver.17)
EF 300/2.8L IS USM
Extender EF 1.4x III
Extender EF 2x (mark I)

Canon EF zooms
EF 8-15/4L USM fisheye
EF 17-40/4L USM
EF 20-35/2.8L (Ver.18)
EF 22-55/4-5.6 USM
EF 24-70/2.8L USM II
EF 28-80/3.5-5.6 II (Ver.18)
EF 28-90/4-5.6 III
EF 35-350/3.5-5.6L (Ver.18)
EF 70-200/2.8L IS USM II
EF 70-200/4L USM
EF 70-200/4L IS USM
EF 70-300/4-5.6L IS USM
EF 70-300/4-5.6 IS USM
EF 100-300/5.6 (non-L, not USM, push-pull zoom) (Ver.18)
EF 100-400/4.5-5.6L IS USM

Canon EF-S
EF-S 10-22/3.5-4.5 USM
EF-S 17-55/2.8 IS USM
EF-S 17-85/4-5.6 IS USM
EF-S 18-55/3.5-5.6
EF-S 18-55/3.5-5.6 IS
EF-S 18-135/3.5-5.6 IS
EF-S 60/2.8 macro USM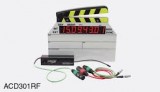 Due to the increased use of record run timecode when recording sound on DAT recorders, and the need to display this code in front of the camera, Ambient has developed the 'Master Radio Slate'.

This slate has all the features of the standard Master slate, but has a built-in UHF telemetry receiver and separate, very small transceiver to attach to the timecode source or recorder. Range is typically 50 metres, but in certain circumstances, can be much greater.

The slate also has a slip-on writing sleeve (280mm wide) which gives the slate a wide screen format, and additional writing space. The sleeve is easily removed for close up shots. A further useful feature is a 'flash on close' option to aid Telecine syncing.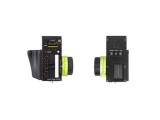 PRESTON FIZ3 LENS CONTROL MDR-2 SYSTEM FEATURES

The FI+Z system controls the complete array of both lens and camera functions. The system is modular, giving the user a wide range of choices from a basic cable connected system to a full wireless microwave system. The System consists of the Hand Unit, Motor Driver, Digital Motors, optional Microwave Link, cables and motor mounting bracket.

The heart of the system is the Hand Unit. Its robust construction, ergonomic design and quick set-up have all contributed to its position as the "industry standard". It's carefully machined exterior matches the phenomenal precision offered by its advanced digital architecture. The unit provides 16 bits of position resolution - 1 part in 64,000 - for incredible smoothness. A bright bargraph display shows the position of the zoom lens. A "Snorkel Mode" enables electronic Pan and Horizon control of Snorkel lenses.

The zoom function is implemented by a Micro Force control. It can be directly connected to the Hand Unit using a bracket or operatedremotely using a cable. The camera may be started either from the Micro Force or from the Hand Unit.

A unique scale adjustment system makes set-up extremely quick. Any portion of the lens focus, iris, or zoom range may be expanded tothe full-scale range of the corresponding control knob with the touch of a switch. In the case of zoom, electronic limit stops can be set. An optional Remote Iris Box provides a separate control for the Iris function. It is automatically enabled when plugged intothe Iris accessory connector on the Hand Unit.

The Motor Driver MDR2 (shown below with the microwave transceiver) interfaces the FIZ Hand Unit with the DM-1, DM-2, and DM-3 digital motors. It provides 3 channels of motor drive, the camera run function for film cameras and the VTR function for video cameras. In addition, it allows wireless control of both the camera frame rate and shutter angle when used in conjunction with the F/X box.

The unit automatically calibrates the motors to the mechanical end limits of the lens. Each of the three channels has a separate three level torque limit selected by a switch.

The power requirements of the MDR2 are 24 - 30 VDC at .15A quiescent, 3A peak (all 3 motors stalled. When fitted with the Microwave transceiver, the operating voltage range is extended from 12 - 30 VDC input.

Metabones Adapter Mark IV for Canon EF Mount Lens to Sony E-Mount Camera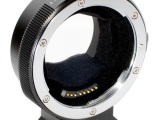 The T Smart Adapter Mark IV for Canon EF or Canon EF-S Mount Lens to Sony E-Mount Camera from Metabones allows a Canon EF or EF-S mount lens to be mounted onto a Sony E-mount camera. While doing so, the adapter is designed to support electronic communication between an attached camera and lens. If the lens includes autofocus, image stabilization, as well as camera-controlled aperture functions, this adapter is intended to allow those features to be used. If an attached lens is also capable of generating EXIF metadata when used with a directly compatible camera, the T Smart Adapter Mark IV for Canon EF or Canon EF-S Mount Lens to Sony E-Mount Camera is designed to allow that information to be saved along with image files generated with a combination of the lens, a Sony E-mount camera, and the adapter.

By enabling camera-controlled aperture functions for a Canon EF or Canon EF-S Mount Lens when used with a Sony E-mount camera, program, shutter-priority, aperture-priority, as well as manual modes can be set and used through the camera. Power for these functions is transferred from the camera to the lens, and the T Smart Adapter Mark IV for Canon EF or Canon EF-S Mount Lens to Sony E-Mount Camera is designed to accomplish this in an energy-efficient manner. When manual focusing is preferred with a compatible electronic lens, an integrated switch can be depressed which opens the lens's aperture diaphragm to it largest setting. The resulting shallow depth-of-field can then be used to help ensure focus accuracy.

When an image is taken with the T Smart Adapter Mark IV for Canon EF or Canon EF-S Mount Lens to Sony E-Mount Camera, a matte black internal coating minimizes the potential for reflections within the adapter barrel, which could otherwise result in unwanted glare within the image. The adapter barrel also features a wide internal diameter to support the movements of compatible tilt-shift lenses.

The T Smart Adapter Mark IV for Canon EF or Canon EF-S Mount Lens to Sony E-Mount Camera is constructed from aluminum alloy for durability while minimizing weight. Its mounting rings are made with brass to further prevent wear-and-tear, and a detachable tripod foot is included that features 3/8" threads as well as compatibility with Arca-Swiss tripod heads.

While Canon EF-S or third-party APS-C EF-mount lenses may be used with the T Smart Adapter Mark IV for Canon EF or Canon EF-S Mount Lens to Sony E-Mount Camera, vignetting may occur when such lenses are combined with this adapter and a Sony E-mount camera with an APS-C sized sensor. Canon EF-S and third-party APS-C EF lenses are designed to project an image onto sensors measuring 22.3 x 14.9mm, while Sony E-Mount APS-C cameras feature sensors that measure 23.5 x 15.6mm.

The T Smart Adapter Mark IV for Canon EF or Canon EF-S Mount Lens to Sony E-Mount Camera can be used to connect Canon EF or third-party "full-frame" EF-mount lenses to a Sony E-mount camera with a "full-frame" sensor without vignetting. It may be used to adapt Canon EF-S or third-party APS-C EF-mount lenses to a "full-frame" Sony E-mount camera as well. However, Sony E-mount cameras with a "full-frame" sensor must be set to "crop mode" when combined with this adapter and Canon EF-S or third-party APS-C EF-mount lenses to avoid generating images with vignetting.

Allows a Canon EF or EF-S mount lens to be used with a Sony E-mount camera
Allows third-party, full-frame or APS-C EF-mount lenses to be used with a Sony E-mount camera
Supports electronic communication between camera and lens to enable autofocus, image stabilization, on-camera aperture control, and EXIF metadata generation when possible
Internal coating minimizes reflections within the adapter barrel
Wide internal barrel diameter facilitates the use of tilt-shift lenses
Integrated switch fully opens aperture diaphragm on compatible electronic lenses to help ensure focus accuracy
Detachable, Arca-Swiss compatible tripod foot with 3/8" threads
Aluminum-alloy components for weight reduction
Brass mounting rings further prevent wear-and-tear
Locking mechanism for secure attachment of lens with push-button release.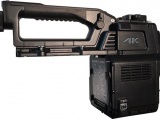 The CA-4000 4K fiber transmission camera adapter permits live capture of 4K, providing Super 35mm 4K for live events such as sports, concerts and live studio programming. With the CA-4000 adapter attached to the docking interface of the PMW-F55, the Super 35mm 4K CMOS sensor camera is turned into a 4K Live system camera with High Frame Rate (HFR) capabilities and innovative HD cut-out operation.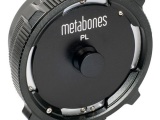 Adapts E-Mount Camera to PL Mount Lens

Note: If you want to use your existing PL mount lenses on a camera with a Sony E-mount, you need an adapter. The Metabones PL to E-Mount Adapter mounts to your camera's lens port and allows you to use PL mount lenses with your camera. Although this is not a permanent conversion, the adapter features a removable support foot to take the strain off of your camera's mount.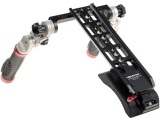 The Movcam Universal Shoulder Kit is compatible with the universal LWS base plate system (sold separately) and can be used with the Sony F5 / F55 and FS700 / FS7 and Canon C100 / 300 / 500 cameras. The shoulder kit includes the Movcam 9" universal LWS mini dovetail plate, quick release block, universal shoulder pad, long rosette adapter, and a pair of anti-skid contoured hand grips and rosette offset adapters. When assembled, the kit allows you to carry a compatible camera attached to the universal lightweight baseplate (not included) in a shoulder-mount configuration.