Sony DSC-1024HD Digital Scan Converter
back to Converters > Scan Converters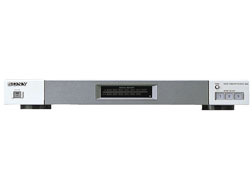 The DSC-1024HD is an anything in anything out kind of box. It allows for VGA, S-VGA, PAL Video, SECAM Video and NTSC Video and analog component inputs. It can convert any of these input signals to VGA, S-VGA, PAL Video, SECAM Video, HDcam component or NTSC Video for output.

Transcoding and scan conversion makes it easy to turn any video format into any format your system requires. It also provides two PC RGB inputs so that two PCs can be connected simultaneously. With these capabilities, it is a perfect solution for the multi video format environment in the digital TV era.

Features:
- Genlock capability with NTSC or PAL output
- Video format conversion between PAL and NTSC
- Transcodes composite video, Y/C, YUV and RGB formats.
- Line doubling reduces visible line structure and horizontal line flicker in video images.
- Automatically recognizes the input signal and converts it to the selected output format, while indicating the input signal format.




Rent a Sony DSC-1024HD Digital Scan Converter in Miami or have it shipped worldwide