The Canon EOS-1D Mark IV SLR Digital Camera is the latest and we have it at a very special introductory price!!

The Next Chapter of EOS.

Offering a comprehensive combination of speed, accuracy and image quality, the EOS-1D Mark IV is the perfect choice for professional photographers and subjects on the move. With a completely redesigned 45-point AF system including 39 cross-type points, a new AI Servo II AF focus tracking system with improved algorithm combined with 10 fps continuous shooting, the EOS-1D Mark IV can handle even high-speed situations with ease. An APS-H sized 16.1 Megapixel CMOS Sensor, Dual DIGIC 4 Image Processors, a spectacular ISO range of 100 - 12800 (up to 102400 in H3 mode) with an advanced noise reduction system helps ensure sharp, low-noise images even in low-light situations. Add advanced Live View shooting, Full HD movie recording with selectable frame rates and manual exposure control plus a host of new features that enhance every facet of the shooting process. The EOS-1D Mark IV is the choice of professionals looking for the ultimate in SLR performance.



Nocturne from Vincent Laforet on Vimeo. This film was made using only the Canon 1D Mark IV and available light. No extra light sources were used.

HD Video Recording
The EOS-1D Mark IV captures video with all the benefits of shooting with an EOS digital SLR. The HD recording area on the EOS-1D Mark IV is approx. 27.9 x 15.7mm, similar when compared to the 24.89 x 18.65mm recording area of Super 35 motion picture film. By shooting video with a large sensor camera, photographers as well as videographers can take advantage of the creative features native to SLR photography. Along with its manual controls, the EOS-1D Mark IV allows for full use of Canon EF lenses, including wide angle, macro, super-telephoto, tilt-shift lenses and fisheye, providing a wealth of depth-of-field and other creative shooting options once reserved only for still photography. The resulting HD video is a standout in its stunning depth-of-field characteristics, remarkable capture capability under poor lighting conditions with its vast ISO range, and deep clean blacks with nearly undetectable noise.

When shooting HD video in AE modes, the EOS-1D Mark IV employs Center Weighted average metering to help ensure stable motion-picture exposure with the camera automatically selecting the ISO speed, shutter and aperture. Full manual exposure control is also available while shooting video when the camera is set to Manual mode.

Video can be captured at 1920 x 1080 resolution at frame rates of 24 (23.976), 25 or 30 (29.97) frames per second, for up to 4GB per clip. Movies are saved as MOV files and can be viewed in Full HD with HDMI output. Other recording sizes include HD at 1280 x 720 (50/60 (59.94) fps) or SD/VGA at 640 x 480 (50/60 (59.94) fps). The EOS-1D Mark IV has a built-in microphone for simple mono recording and stereo sound can be recorded through a self-powered external microphone.

Canon EF Lens Compatibility

The EOS-1D Mark IV is compatible with all Canon lenses in the EF lineup (excluding EF-S lenses), ranging from ultra-wide angle to super telephoto lenses. Canon lenses employ advanced optical expertise and micron-precision engineering to deliver outstanding performance in nearly all facets of the photographic process.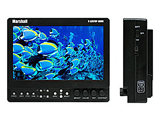 Battery Configuration: Panasonic
Includes (3) Panasonic CGA-D54 (or compatible) batteries and charger.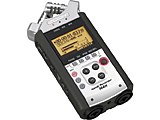 The Zoom H4n Handy Recorder picks up where the H4 left off and adds additional features to an already popular audio recorder. Ideal for recording interviews, lectures, rehearsals, meetings, and more, this palm-sized unit packs the ability to record up to 4 channels of audio at greater than CD quality.

The H4n features onboard true X/Y stereo microphones to pick up clear, natural sound without phase shifting. The mics can be rotated to select a 90 or 120 recording pattern for terrific versatility. The digitally-controlled preamp, combined with the high-quality microphones, allows you to capture Linear PCM audio at rates up to 24-bit/96kHz. The recorder captures audio to SD or SDHC cards with capacities up to 32GB. A USB 2.0 port allows you to quickly transfer files to a Mac or PC, or use the H4n as a live audio interface.

For connecting your own microphones or instruments, the H4n features XLR/TRS combo input jacks with phantom capability. A 3.5mm line output is provided, and a reference speaker is built-in for quickly reviewing your recordings. The unit operates on a pair of standard AA batteries, and features a Stamina mode to provide up to 11 hours of continuous recording at 16-bit/44.1kHz.


Download:
Operation Manual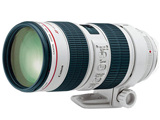 The pinnacle in Canon's constant-aperture telephoto zoom lenses, the EF 70-200mm f/2.8L IS USM Telephoto Zoom Lens is an incredible optic with robust design and tack sharp results. Second-generation Image Stabilization responds in as little as 0.5 seconds, while providing up to three stops stabilization that as hand-holdable as a normal lens. IS now automatically deactivates when on a tripod by sensing non-movement of the camera and lens, also conserving battery power. An entirely new optical formula produces images that are superior to even its highly regarded predecessor, the EF 70-200mm f/2.8 L, despite having more reflective surfaces within the lens.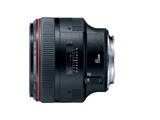 The Canon EF 85mm f/1.2L USM Autofocus Lens is a fast lens that delivers superb optical performance. A maximum aperture of f/1.2 makes it the professional's choice for shooting without flash in low light conditions. The large aperture also provides fine control over depth of field for compelling portrait photography.

Retaining the impressive optical performance and large aperture of its predecessor, this medium telephoto lens has been improved with a Ring-type USM, high-speed CPU and optimized algorithms to achieve an autofocus speed approximately 1.8x faster than the original. The high-speed AF and circular aperture create a shallow depth-of-field that brings attention to the subject and blurs the background, which is ideal for portraits and weddings.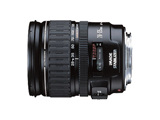 The Canon EF 28-135mm f/3.5-5.6 IS Lens is a compact and lightweight standard zoom lens that offers superior optical performance, plus a built-in Image Stabilizer. The IS system reduces the possibility of blurred photographs caused by camera shake, which allows for handheld photography in comparatively dim light without a flash or tripod. At the wide angle end of the zoom range, the equivalent shutter speed gain is approximately 1.5 stops while at the telephoto end, it is approximately 2 stops.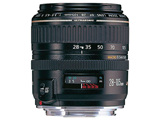 This lens retains the optical capability of the highly popular Canon EF lens series, with a refined exterior design, including ring-type USM drive for silent, high-speed auto focusing plus full-time manual focusing. It is an excellent zoom lens for everyday use.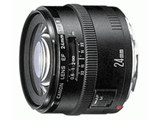 Highly popular wide angle lens featuring a large aperture. Good for casual snapshots as well as perspective shots. Floating rear focusing system corrects astigmatism and gives high contrast and sharp delineation.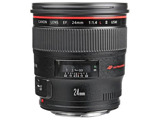 The Canon EF 24mm f/1.4L USM lens is a venerable wide-angle prime lens that provides sharpness and impressive performance at all settings. Its large maximum aperture of f/1.4 allows for superb low-light photographs, and its circular aperture and narrow depth of field provide pleasing background blur. It is the ideal tool for photojournalists, landscape and event photographers, and anyone who enjoys taking images from a wider perspective.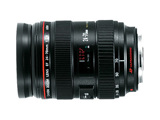 This lens replaces the previous high quality L-series 28-70mm f/2.8 lens, with a lens of even greater caliber. The range has been extended to cover an ultra-wide angle of 24mm, which makes it ideal for digital as well as film shooters, and the optics are even better than before with two Aspherical elements and a totally new UD glass element. It's now sealed and gasketed against dust and moisture, and a new processing unit makes the AF faster than ever.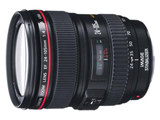 The Canon EF 24-105mm f/4L IS USM lens is an easy-to-use standard zoom lens that can cover a large zoom area ranging from 24mm wide-angle to 105mm portrait-length telephoto.

The EF 24-105mm f/4L IS USM incorporates Canon's highest standards of precision optics. The L-series is Canon's flagship professional lens range, combining outstanding image performance and ultimate operability with dust and moisture resistant construction.

Canon's ring-type USM gives silent but quick AF, along with full-time manual focus. Moreover, with dust- and moisture-resistant construction, this is a durable yet sophisticated lens that meets the demands of advanced amateur photographers and professional photographers alike.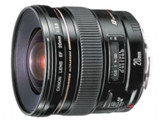 Ultra-wide-angle lens for serious applications. Easy to hold and carry at 0.89 lb. Floating rear focusing system gives sharp images at all subject distances.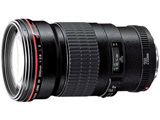 Zoom in on a favorite subject from a distance with the Canon EF 200mm telephoto lens. Offering a long focal length that lets you effectively compress the distance between the subject and camera, the lens lets you easily capture the details and feeling of a far-off scene. The lens is distinguished by two ultra-low-dispersion (UD) glass elements and a rear focusing system to correct aberrations, producing extremely sharp images. The lens also offers a natural-looking background blur and comes with a dedicated, detachable hood.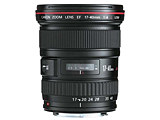 While an excellent ultra-wide zoom lens for film SLR cameras, the Canon EF 17-40mm f/4L USM Lens is especially well suited for use with EOS digital SLR cameras, which usually have an imaging sensor size smaller than the 35mm format. When used with such digital SLR cameras, the 17-40mm focal length range gives an angle of view approximately equivalent to that of a 27-64mm lens upon 35mm cameras, making it an ideal medium-aperture standard zoom lens.

The EF 17-40mm f/4L USM, like all of the Canon "L" lenses, delivers optical performance equal to similar fixed focal length lenses, with silent, high-speed focusing. Distortions and aberrations are remarkably small for a lens of such amazing capability. It combines 1 high-precision molded glass aspherical lens and 2 replica aspherical lenses to achieve the extended zoom range, while also correcting for common aberrations that arise during zooming. A Super UD (ultra-low dispersion) glass element minimizes the chromatic aberration of magnification which tends to occur with wide-angle lenses, to help eliminate color bleed along the edges of the subject and achieve high image contrast and resolution.

The 17-40's minimum focusing distance is just 11" (28cm) throughout its entire range of focal lengths, which makes it very useful for close-up work. All of the focusing and zooming action is done internally, with no changes of the size of the lens. It only uses lead-free optics to help the environment, and features a circular diaphragm for improved background blur. The housing is water and dust resistant to help ensure reliable performance for both professionals and enthusiasts. Like many "L" lenses, it uses 77mm filters, but also has a rear gelatin filter slot behind the lens mount.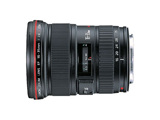 The Canon EF 16-35mm f/2.8L USM Autofocus Lens is a high performance, water-resistant, and ultra wide-angle L-series lens. The optical design has been improved to offer better edge-to-edge image quality. In addition, it features 3 high-precision aspherical lens elements, each of a different type: ground, replica and GMo. Improved AF algorithms will help the lens to focus faster and quieter.

All of the "L" lenses deliver optical performance equal to similar fixed focal lengths lenses, and the USM lenses do this with silent, high-speed focusing. Distortions and aberrations are remarkably small for a lens of such amazing capabilities.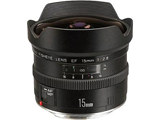 Fisheye lens with a 180 angle of view for unique and intriguing effects. The wide depth of field makes it even more interesting. The short minimum focusing distance of 8 in. (20 cm) gives new meaning to close-up shots. The lens has a fixed petal-type hood and a gelatin filter holder at the rear.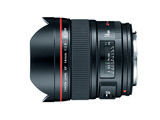 The Canon EF 14mm f/2.8L USM Autofocus Lens is a bright lens that provides an ultra wide-angle view, and has the shortest focal length in the line-up of L series lenses. Its diagonal angle of view is an impressive 114 - anything larger would be a fisheye lens.

This lens features completely redesigned optics, including two high-precision Aspherical elements and two UD-glass elements. This results in better contrast and sharpness at the outer edges, and a reduction in chromatic aberrations that can sometimes be seen with high-resolution digital SLRs.

The 14mm f/2.8L II USM lens uses a rear focusing system, high-speed CPU, and a powerful ring-type USM with revised electronics for faster, more responsive AF. This wide aperture lens is the ideal choice for architectural, corporate, or other pro-level photography.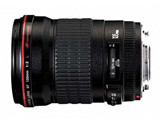 The Canon EF 135mm f/2L USM is designed to meet the needs of a wide range of advanced amateurs and professionals. A ten element optical formula with two UD-glass elements serves to correct residual aberrations, resulting in superb sharpness and high image quality. It is also able to obtain superior background blur with the f/2 wide aperture. The EF 135mm f/2L USM is fully compatible for AF with Extenders 1.4x and 2x. A stellar portrait and available light lens.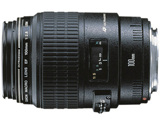 This is the older style macro lens. It does not have image stabilization.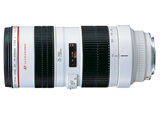 One of the finest telephoto zoom lenses in the EF line, comparable to a single focal length lens. It has four UD-glass elements to correct chromatic aberrations. The newly-designed multiple zoom groups for inner focusing bring high image quality throughout the entire zooming range.

This is the Non IS (Image Stabilizer) version.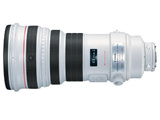 The standard lens for many professional sports and nature photographers. The latest image-stabilized version of the 400mm f/2.8L is the best yet, with better handling, lighter weight and the world's fastest AF speed among 400mm f/2.8 lenses. Durability and weather resistance are world class. A complete redesign of optics has resulted in Canon's best image quality ever in a 400mm lens.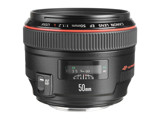 The EF 50mm f/1.2L USM is a peerless new standard lens featuring an ultra-large aperture for a narrow depth of field and soft background blur so loved by photographers everywhere. The EF 50mm f/1.2L USM is suitable for any shooting situation; its lens coating and construction are optimized to minimize the ghosting and flare that frequently occurs when lenses are used with digital cameras.

- 46 degrees view angle
- 72 mm filter
- 17.7" min focus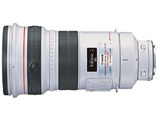 The EF 300mm f/2.8L IS USM sets new standards in performance and versatility with its lighter weight, better balance, and particularly its new Image Stabilization. In addition, the tripod collar can be removed for even more weight reduction and hand-holding comfort.

- Fluorite and UD elements eliminate secondary spectrum chromatic aberration.
- AF speed is the fastest in the world.
- Full-time manual focus override.
- AF Stop function shuts off autofocus when an obstruction appears.
- Dust and moisture resistance made exceptional by magnesium alloy lens barrel and new rear gasket at lens mount.
- Two-stage image stabilization; dual-axis camera shake correction or vertical axis only (for panning).
- 3-stage focus limiter,
- Focus preset function allows for returning to a specifically set focus by turning a ring in front of the focus ring.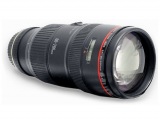 Older, Non IS, Non USM lens.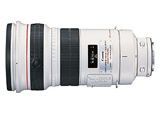 The high-performance L-series EF 300mm super-telephoto lens is a terrific choice for sports photographers and other long-distance users. Sports action requires a fast shutter speed and a long focal length. This lens easily complies thanks to its large maximum aperture-- which supports a faster shutter speed-- and its 300mm length.

This is the older, Non IS (Image Stabilizer) lens.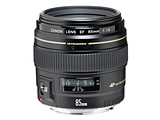 The Canon 85mm f/1.8 EF USM Autofocus Lens is a highly practical medium telephoto lens with superb delineation and portability. Images are sharp and clear at all apertures. Through computer simulations, the lens has been designed to give beautiful background blur. Since the front lens group does not rotate during focusing, special filter effects are not affected.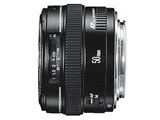 Standard lens featuring superb quality and portability. Two high-refraction lens elements and new Gaussian optics eliminate astigmatism and suppress astigmatic difference. Crisp images with little flare are obtained even at the maximum aperture. Comes with Hood.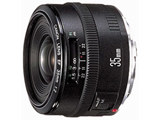 This fast wide angle lens with a minimum focusing distance of only 0.8' allows you to approach the subject closer and still obtain a more natural wide angle effect. Excellent background blur for portraits is obtainable.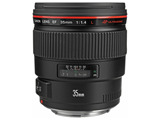 The superior-quality Canon EF 35mm f/1.4L USM Wide-Angle Autofocus Lens features a brilliant maximum aperture of f/1.4, the largest in its class, along with the superior natural image quality of Canon L-series lenses. An advanced floating mechanism and a ground and polished aspherical lens element achieve extremely sharp, distortion free pictures from infinity to its closest shooting distance of 1.0'/0.3 m. With ring USM-powered rear focus, autofocus is stealthy and swift. A wide focusing ring provides comfortable manual focus, and the filter ring remains stationary for ease of use with polarizers and other special effects filters.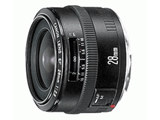 This highly portable wide-angle lens has a good price-to-performance ratio. Its light weight of 185g makes it ideal as your standard wide-angle lens. The high-precision aspherical lens minimizes distortion and other aberrations for sharp images with high contrast.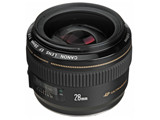 With the large maximum aperture, excellent background blur is possible with fast shutter speeds. The aspherical lens element makes the lens compact and corrects spherical aberrations. The image is sharp even at the edges.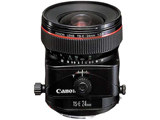 For discerning architectural photographers, there is great need for wide angle lenses. Tilt and shift movements, features normally found on large format cameras, can be bestowed upon a smaller format of camera with a lens such as this wide Canon 24mm f/3.5L TS-E Lens.

Being a Canon "L" lens, by definition it is a premium Canon optic. The 24mm TS-E has several distinct elements that make it stand apart from more common glass. Firstly, designers integrated a set of physical controls that allows users to rotate the direction of the tilt and shift independently of one another. Secondly, there is +/-8.5 of tilt and +/-12mm of shift that gives photographers ample ability to correct for perspective when taking images of interior or exterior spaces, and landscapes.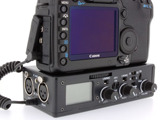 The DXA-5D provides an easy way to connect professional microphones and other audio gear to the Canon 5D Mark II camera. It is now possible to capture professional sound with control and monitoring ability.

The DXA-5D features dual transformer-balanced XLR inputs with phantom power and built-in level meters. In addition, the built-in headphone jack allows the user to monitor the audio - a feature missing on this camera. The trim controls allow the user to dial in the proper signal levels for optimum recording quality.

Most importantly, is the unique AGC Disable function which was the most sought after feature by users of this camera. The AGC Disable circuit is activated by a switch which controls the wild swings of the Auto Gain Control in the camera to reduce the hiss generated by the preamplifiers during quiet moments of recording. It works by sending a high frequency inaudible tone to the left channel of the camera. This feature greatly decreases the camera noise which has always been a problem in the past.

Camera Rental Not Included


Download:
PDF, Operator's manual