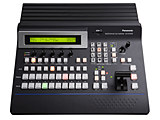 The multi-format AV-HS400 live switcher is an all-in-one system that easily integrates into existing HD/SD workflows, flawlessly mixing HD and SD video sources. With a built-in MultiViewer image preview, expandable HD/SD architecture, 3D digital effects and a host of other advanced features, the HS400 provides all the functions you need for superb results.

The HS400's built-in MultiViewer can output 4, 6, or 10 images from different sources to a single high-resolution display, eliminating the need for multiple HD source and preview monitors. For added creative flexibility, the switcher offers a broad selection of wipe patterns including 3-D digital effects and features a high-quality chroma key for applications such as green screen in broadcast and production.

Read more...



Download:
PDF, Operating Instructions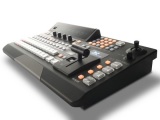 The HVS-300HS is the newest addition to FOR-A's popular Hanabi series and represents one of the most powerful, compact, broadcast level switchers on the market. Although small, it's 1 rack unit main frame is packed with features including: Frame synchronizing and re-sizing engine on every channel which allow any Standard Definition equipment to be used in full HD mode. It also has plenty of wipe patterns including 2D and 3D DVE transitions. The base unit also has keyer with chroma key, DSK, Dual picture in picture, 16-channel Multi Viewer, Still Stores and much more. It is perfectly suited for a wide range of applications including studio production, event and sports coverage, news, live staging and corporate use.

Read more...



Download:
PDF, Product Brochure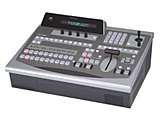 Simple and compact, but powerful, the Panasonic HVS-500HS 1M/E HANABI is an HD/SD-compatible, yet portable switcher that combines the easy operation and powerful features that FOR-A's HANABI series is famous for. The compact case houses a wide array of functions to give you unrivaled mobility.

Read more...



Download:
PDF, Product Brochure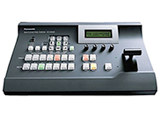 The AVHS300G is a compact video switcher designed to provide HD/SD switching for live and to-be-recorded events. This unit is ideal for broadcast facilities, production vans, fly packs, sports events, church productions, music video & cable shows, corporate videos, event staging, and educational training facilities, among many other possible uses.

Read more...



Download:
PDF, Operating Manual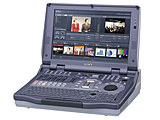 The Sony AWS-G500HD Anycast Station High Definition Live Content Producer is a portable live production switcher. This all-in-one unit comprises a high definition video switcher, an audio mixer, a large LCD display, and a streaming encoder and server. It accepts a variety of inputs from PC's, cameras, VCRs and Hard Disk Drives. It mixes audio and offers ME capabilities. This unit will easily integrate into a studio or location live production operation.

The AWS-G500HD, based on the original AWS-G500 platform, is a simplified configuration for those customers needing HD capability ONLY.

This unit will come configured with the following:
(2) BKAW-590 HDSDI Interface Module.

Each HDSDI Card provides:
(2) HDSDI inputs
(1) HDSDI outputs

Please specify exactly what inputs and outputs you require and we will work on a reconfiguration.

Read more...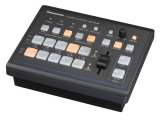 The sub-compact, multi-format live HD/SD AW-HS50 switcher offers 10-bit processing, four HD/SD-SDI inputs and one HD DVI-D input, as well as a built-in MultiViewer, Chroma Keyer, Aux Bus, 1080/29.94PsF support, and more.

Ideal for mobile production, AV facilities, event video and more, the half-rack width HS50's built-in MultiViewer allows users to view four, nine, or 10 images on a single display - significantly reducing the cost, size, and weight of a complete HD production system. The adjustable MultiViewer outputs can also be used to provide a multi-image large-screen presentation display. Other advanced functions include dedicated hardware for picture-in-picture (PinP) with dissolve transitions, switchable upconversion, color correction, a chroma/linear keyer plus a downstream keyer (DSK), auto or manual video transitions, wipe and PinP preset memories, and frame memories.

As a key component in Panasonic's first complete Internet Protocol (IP) production system, the HS50 also offers an IP link to the new AW-RP50 remote camera controller. This link enables remote switching of the remote controlled camera video on the HS50's AUX bus, and other unique functions The AW-HS50 has built-in, switchable 10-bit frame synchronizers on each input, ensuring reliable, glitch-free switching even with non-synchronous sources such as remote camera feeds, small camcorders, and computer graphics.

The HS50 has four HD/SD-SDI inputs and one HD DVI-D input, two HD/SD-SDI outputs and one scalable DVI-D output. Additional standard features include an on-screen display (OSD) for viewing switcher settings, GPI input, camera tally outputs, an Ethernet control interface, 4-pin XLR 12VDC input, and an AUX Bus for a versatile production workflow.

- 5 input, 3 output switcher in sub-compact 1/2 rack-width design
- AUX bus, PinP, Chroma Keyers, 10-bit frame synchs
- Measures only 8-1/4" W x 2-5/8" H x 6-15/16" D
- 10-bit, 4:2:2 HD or SD live switching
- Weighs just over four pounds
- Supports 1080/59.94i, 1080/23.98PsF, 1080/24PsF, and 720/59.94p