Panasonic TH-50PH8UK 50" Plasma Monitor
back to Monitors > Large LCD Monitors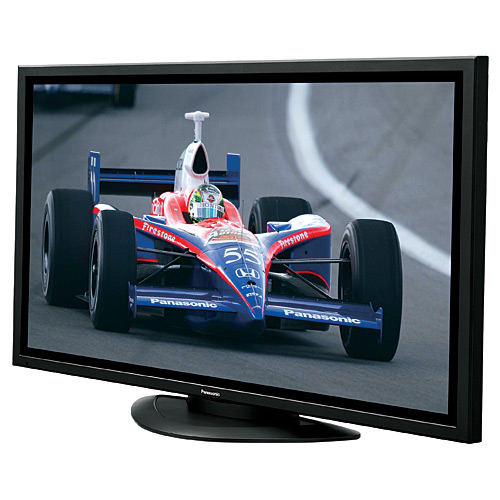 This Plasma Monitor is exactly that: It is just a monitor. It is not a TV set. It does not have a tuner. It does not have speakers. If you require more than just visuals please make a specific detailed request for audio or more. Second note: When ordering it is essential that you tell us exactly what input you will be sending to the monitor so we can supply the appropriate inputs on the monitor.

The TH-50PHD8UK comes standard with PC Input, Serial Control (RS-232C) Input, BNC Component Video/RGB Input, BNC Composite Video Input, BNC Composite Video Output, S-Video Input. There is an available slot for an optional terminal board. Or, we can remove the standard boards and mount up to three optional boards.

- up to 3,000:1 contrast ratio - Real Black Drive System and Deep Black Filter provide deeper, richer blacks and enhances image clarity and realism
- Up to 2,048 shades of gradation (4,096 shades via HDMI or DVI connection)
- New Advanced Real Gamma System and up to 14-bit signal processing provide superior performance at brightness levels where the human eye sees best
- Full time 3.62 billion (maximum 8.52 billion) displayable colors
- Up to 15% brighter images - Multi-Facet Asymmetrical Configuration Hyper-Pixel (MACH) Panel features bounded cell structure, new phosphor material, and optimized gas composition ratio to improve light-emitting efficiency and intensity
- Up to 60,000-hour panel life - MACH Panel boasts a long service life of 60,000 hours
- 1,366 x 768 resolution
- 1080/60i, 1080/50i, 1080/24p, 1080/24sf, 1080/25p, 1080/30p, 720/60p, 720/50p, 480/60p, 480/60i signal compatibility
- VGA, SVGA, XGA, SXGA, UXGA (compressed) PC signal compatibility
- 16:9 widescreen aspect ratio
- Over 160 degree viewing angle

This screen is a professional monitor and is supplied with special cables and adapters if you request them. There are NO INTERNAL SPEAKERS. Please order speakers separately.




Rent a Panasonic TH-50PH8UK 50" Plasma Monitor in Miami or have it shipped worldwide