Amphibico Phenom Z7LE Underwater Housing with Sony HVR-Z7U HDV Camcorder
back to Underwater > Underwater Camera Packages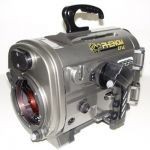 The Phenom Z7LE for the Sony HVR-Z7U HDV Camcorder is an electronic and mechanical housing which gives complete control of your camcorder when filming your underwater scenes. It is constructed from high quality marine grade aluminum and fully anodized with a hard coat of polyurethane paint, including a clear coat. Pressure tested for 330 feet, you are certain to dive deep.

HOUSING FEATURES

Designed for professional underwater use
14 Electronic push button controls to access over 25 functions
3 Mechanical push button controls
Proportional Manual Focus
Proportional Manual Zoom
Manual White Balance
Manual Iris
Manual Gain
Manual Shutter Speed
Power On/Off
VCR Mode (Play, Rewind, F-Forward, Stop, Pause)
Index Markers
Menu Control Panel
Sensitive Dual Hydrophones
Water sensor alarm
Tally light flashes green while filming
2.5X magnified viewfinder w/adjustable dioptric control
Bayonet Mounted Lens System
2 Auxiliary ports
Single Flip filter Arm with Blue water color correction filter
Two Year Standard Full Warranty

Ampibi-Grip hand Controls
Proportional Manual Focus Wheel
Review
Screen Display
Index Markers
Record/Standby
Wide-Angle/Telephoto
Proportional variable zoom
Manual/Momentary Auto Focus
VCR functions

SPECIFICATIONS

Marine grade aluminium construction
Fully anodized with a hard coat of polyurethane paint and a clear coat
All hardware is marine grade brass and stainless steel
Internal Flip filter with a Blue Water color correction filter
Weight of unit:
On land 36 lbs. (16.3kg) fully loaded w/camera NP970 battery, lens and lead ballasts.
In seawater the Phenom is perfectly neutral and balanced
Dimensions:
Length 18.3" (465mm)
Width 13.6" (345mm)
Height 10.1" (257mm)
Measuremenrs includes lens and grips
Operating depth:
Each unit is pressure tested to 330ft (100m)

This housing includes a complete Z7Ucamera (set at NTSC or PAL per your request). There is no charge for the camera which has been carefully configured to exactly fit into the housing. Various modifications have to be made to the camera in order to fit the housing properly and line up 100% so there is no issue of vignetting when you return to the edit suite.




Rent a Amphibico Phenom Z7LE Underwater Housing with Sony HVR-Z7U HDV Camcorder in Miami or have it shipped worldwide