Rent Legacy Working Cameras
The old school cameras in this section ARE FUNCTIONAL and have been restored. modified, converted for use. These are working props that can be used as they were originally.

Production Props pricing is flexible and packages can be created to fit your budget.
Give us your wish list and we'll make it happen.

PLEASE NOTE: All items are rental props. They are NOT FOR SALE.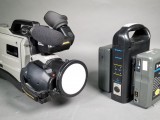 [
+ enlarge
]
The Panasonic AG-456UP video camera was designed to record videos straight to a VHS tape. We rent this camera as a working and functional prop.

More Details...