SALE 50 Percent OFF Rental Gear
July 24, 2023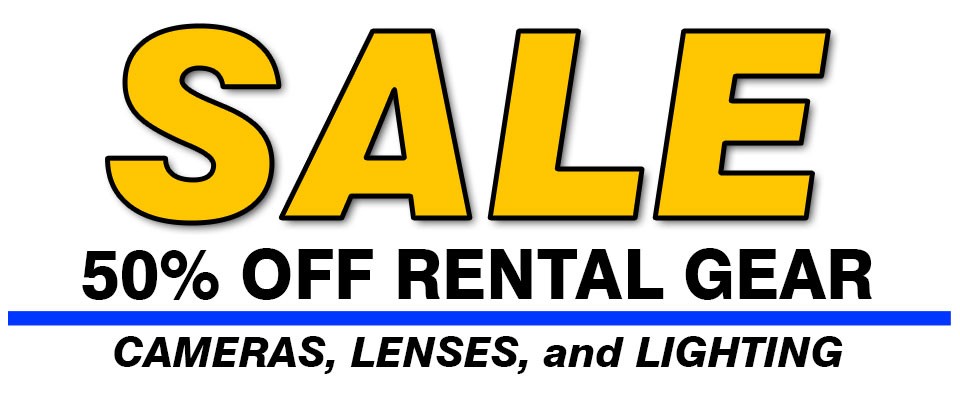 UPDATED, September 4, 2023
Budget Video Rentals has extended the HUGE 50% OFF SALE on rental gear - Cameras, Lenses, and Lighting. In most cases our pricing will beat the "Big Box" online rental houses but if not, call us with your "Big Box" quote and we'll match or beat it!

THE FOLLOWING LIMITATIONS APPLY:
Sale applies to camera rentals, lens rentals, and lighting rentals.
Sale applies to rental equipment only and does not apply to expendables, background paper, or other non-rental items.
Cannot be combined with other discounts or offers. For example, the $25 registration credit cannot be applied at the same time as the 50% discount.
Discounts are subject to the availability of each rental item. In other words we can't apply a 50% discount to something we don't have.
Shipping and deliveries are not discounted.
Call us 24/7 with any questions! 800-772-1111

WHY ARE WE DOING THIS?

We're competing with the "Big Box" online rental houses.
It's an experiment that we hope will lead to permanent price reductions.
We're doing our part to help YOU SUPPORT LOCAL businesses!
If your "other source" is one of those giant, corporate houses and they are still lower than our 50% discount, please call us and ask for an additional discount. We are always happy to work with you and help you solve problems!

SUPPORT YOUR LOCAL BUSINESSES!!
We've been here for over 50 YEARS, in the same building, supporting film and video production in South Florida and the world. We're always testing the latest equipment so we can provide the best, personalized customer service. We're here on weekends and after hours to take your calls and answer questions. We want to keep doing all of these things! Help us stay here for another decade!

Weekend rentals are still ONE DAY! Pick up after 4pm Friday and return before 12pm the following Monday and pay for ONE DAY!!