Bluefish 2 HD Underwater Housing w/IK-HR1S
back to Underwater > Underwater Camera Packages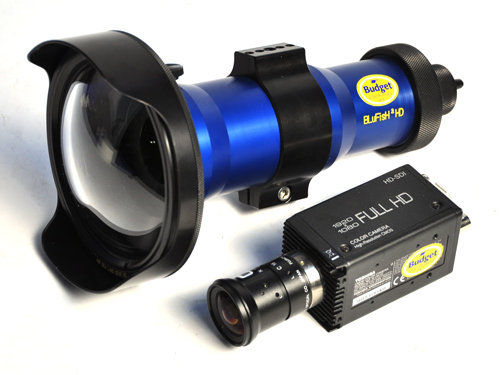 The New BLuFISH 2 HD underwater housing for the Toshiba IK-HR1S miniature HD camera, provides a revolutionary High Definition remote head point of view camera system providing a high-performance, multi-format solution in a small package.

Enter the world of underwater with the smallest HD POV cameras on the market today. The BLuFISH 2 HD was designed and manufactured by Air Sea Land Gear, an Emmy-award winning company for POV innovation and design.

Ideal for applications that require a camera on a pole, dangerous locations, extreme environments and for outdoor installations. Quarter-inch taps allow the housing to be mounted to multiple grip arms and devices. The housing can accommodate the Fuji 2.8mm and 4mm C-mount lenses. (Fuji TF2.8DA-8 and TF4DA-8). This solid aluminum housing has been pressure tested to over 100m.

Includes Toshiba IK-HR1S camera, dome and flat port, Fuji 2.8mm and 4mm C-Mount lenses.





Download:
PDF, Instruction Manual

Rent a Bluefish 2 HD Underwater Housing w/IK-HR1S in Miami or have it shipped worldwide