Teradek Cube-150 1 Channel HD-SDI Encoder
back to Video Cameras > Transmitters, Receivers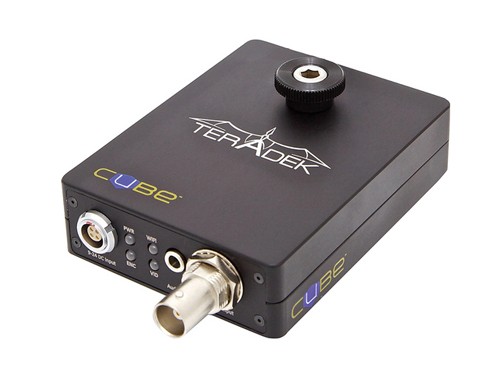 The Teradek Cube-150 1 Channel HD-SDI Encoder is a camera-top HD video encoder, and is suitable for on-set video monitoring as well as full-scale film production. It features HD-SDI (serial digital interface) input, dual band WiFi (2.4/5.8 GHz), and an external USB port. In addition, the cube encoder features line-of-sight (waves traveling straight line) WiFi range up to 300' (91m).

Featuring a setup wizard, the Cube 150 HD-SDI Encoder web interface simplifies configuration. You can create a network, log on to Cube's web interface, complete the setup wizard, and start streaming video after connecting video to the Cube system. The Cube 150 HD-SDI Encoder features H.264 High Profile (level 4.1) video compression to offer high video quality at lower bit rates.

Downscaling to lower resolutions is possible via a built-in scaler that allows for output streaming resolutions of 1080p/PsF, 1080i, 720p, and 480i. Based on available IP bandwidth, you can choose target bit rates (HD - 2 to 4Mbps, SD sub-1Mbps) and a video resolution as required. The Cube encoder offers end-to-end latency (time delay) of 1/8-1/2 second.

With a small size and compact design, the Cube 150 HD-SDI Encoder can be mounted to a rail system, cage, hotshoe, or camera baseplate. In addition, it can be used with camera systems such as Red One, Arri Alexa, and Panavision Genesis. The Cube encoder requires only 2.5W DC power.




Rent a Teradek Cube-150 1 Channel HD-SDI Encoder in Miami or have it shipped worldwide