Sony PDVM-63HD, DVCAM for HD Tape
back to Expendables > Videotape and Media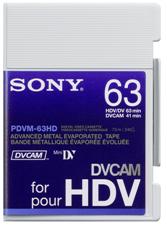 This DVCAM for HDV Tape is the perfect partner for videographers who want to shoot freely in SD or HD on the same media without increasing their cost.
- High durability and high tolerance of DVCAM tape are expanded for professional HDV.
- Triple benefit of high output/low noise, low dropout and high durability, provided by Sony's Diamond Like Carbon (DLC) protective layer technology.
- Recording time is 41 minutes in DVCAM or 63 minutes in HDV or DV.




Buy a Sony PDVM-63HD, DVCAM for HD Tape in Miami or have it shipped worldwide


Temporarily
Out of Stock