EZFX EZ Jib Arm
The EZ Jib arm is a portable, user friendly and the most versatile Jib arm in the production industry. Cost effective, user friendly and versatile are the attributes that set the EZ Jib arm apart from all others. Add production value and get the sophisticated look of moving camera shots in your productions. Save valuable production time by setting up your static shots very quickly. With the new stabilizer feature you can also do your tripod shots directly from the jib without removing the camera from the jib.

EZ Jib Specs:
Camera Capacity: 50 lbs.
Arm Length: 48"
Vertical Movement: 84"
Weight: 24 lbs.

Fluid head not included

- Lightweight and portable. 24 lbs and 52 inches folded.
- Invertible camera platform for under sling mode.
- Quick and easy set up.
- Brakes for both lift and swivel.
- Built in stabilizer mount, for tripod shots without removing the camera from the jib. A C-stand is required.
- 7 feet (2.13m) of vertical camera movement for shots as much as 10 feet (3.05m) off the ground.
- Supports all camera sizes from mini DV to film and broadcast cameras. 0 to 50 lb capacity. (0 to 23kg)
- 4 and 6 foot extension kits available. (25 lb capacity with extension)



A Budget Video client using the EZ FX Jib, with optional extension and VariZoom MC100.


Rent a EZFX EZ Jib Arm in Miami or have it shipped worldwide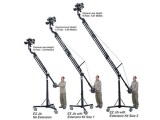 The EZ Jib Extension Kit is really two extensions in one and can be used at either the 3.5 foot length (1 meter) or the 7 foot length (2 meters).

EZ Jib Extension Kit Specs:
Camera Capacity: 25 lbs.
Combined Length: 11 or 16 feet
Invertible for under sling mode
Longer counter weight bar

Fluid head not included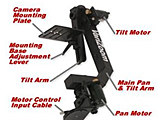 The VZ-MC100 Pan and Tilt control system for all camcorders up to 20 lbs. VariZoom has created a brand new lightweight and extremely portable remote head, weighing only 8 lb. The VZ-MC series pan and tilt heads allow for remarkably fast set-ups.

VariZoom has compacted all of the electronics necessary to drive the precision pan and tilt head into one small control housing, allowing for portability and versatility. Just mount the VZ-MC remote head on a tripod or jib plug into the supplied cord leading to the control handle power up your control handle by battery or with the supplied ac power supply and you're ready to go.

Includes:
- Remote pan & tilt head
- Pan & tilt control grip/box
- Locking 4 pin XLR power supply
- 20 feet of pan & tilt motor cable
- Heavy duty carrying case

Note! We recommend mounting the MC100 on a 100mm bowl-type tripod since it will fit snugly and enable you to thread the supplied bolt through the MC100 mounting plate and down through the bowl of the tripod.

Jib Arm Not Included
*Disclaimer:
Photos are for illustration only. Prices do not include
optional accessories or extra equipment that may be shown.