Lectrosonics SM digital wireless lavalier kit
back to Microphones > Wireless Microphones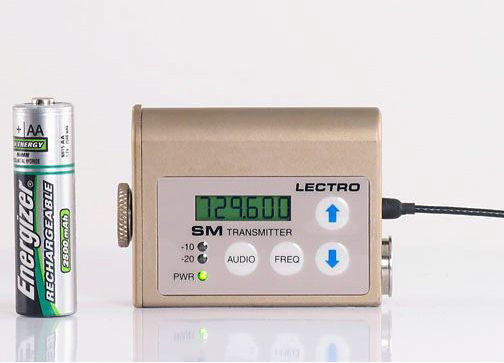 The Lectrosonics SM sub-miniature wireless transmitter incorporates Lectrosonics patented Digital Hybrid technology, in a package no bigger than a pager. Despite its miniature size, the transmitter is built to withstand rigorous daily use in the field or in studios.

With 256 user selectable UHF frequencies and an output power of up to 100mW, the SM is sure to provide stable transmission over a long range. The audio input is a switchcraft TA5F connection that is capable of -10dB or -20dB gain level. An LCD display features a membrane switch control panel and provides frequency and output gain level information, while 3-LED indicators provide modulation and power status. A single AA lithium, NiMH or alkaline battery will power the transmitter for up to 4.5 hours (lithium).

Includes:
- Lectrosonics 411 receiver.
- Tram TR50 Omnidirectional Lavalier Condenser Microphone.




Rent a Lectrosonics SM digital wireless lavalier kit in Miami or have it shipped worldwide