AJA Ki Pro Quad Solid State 4K Recorder
back to Recorders, Players > HD Recorders and Players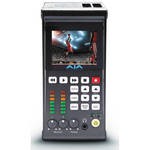 Includes: AJA Pak Dock and one AJA PAk 512gb SSD

Enables a powerful yet manageable workflow for 4K. Ki Pro Quad serves as a central gathering point for the main needs of 4K production; bring camera signals into Ki Pro Quad and then simultaneously create edit-friendly 4K ProRes files, output to 4K monitors and record RAW data directly to Thunderbolt-enabled computer/storage system. 4K content needs are growing. Ki Pro Quad helps ease the transition to 4K with a recorder that creates smaller file sizes while still retaining quality.

Supports 4:2:2 and 4:4:4 recording even at HD and 2K resolutions. Real time scaling from 4K to 2K/HD. Shoot 4K but record 2K to keep file sizes down but still have theatrical quality images to work with. HDMI output allows connection even to HD consumer monitors. Ki Pro Quad can cover your needs today and into the future.

Ki Pro Quad follows the same tried-and-true principles that have made the rest of the Ki Pro family successful, creating high-quality, low-bandwidth ProRes files up to 4K resolutions, that can be easily offloaded to a Thunderbolt or USB 3 enabled computer via AJA's Pak Dock SSD media reader. The resolution may be different, but the process is the same. And with the same capabilities of Ki Pro Mini for remote control, automation, ease of use and mounting options, the transition to Ki Pro Quad is virtually seamless.

At 4K resolution, the ability to check focus and exposure is critical. The only way to do this is with proper, full 4K monitoring. Ki Pro Quad provides a full resolution output that can be fed to 4K monitors for real time, on set quality checks. Real time hardware scaling creates high-quality HD-SDI and HDMI outputs for viewing on consumer and professional HD monitors, giving you additional options.

RAW data is the source from which all other image formats can be generated. This is the equivalent of a camera negative in film terms. Thunderbolt allows the bandwidth to record this RAW data via a single cable to a properly configured drive array. Ki Pro Quad supports RAW data pass-through while simultaneously recording to 4K ProRes files, for the ultimate in data security and flexibility.

The screen on the Ki Pro Quad is located on the same side as all of the user controls so that both the screen and controls are fully accessible even when the Ki Pro Quad is mounted to the camera along with other gear. This provides a quick reference of the input signal as well as the configuration menus. The current status of the Ki Pro Quad as well as all the configuration information is displayed on the built-in screen.




Rent a AJA Ki Pro Quad Solid State 4K Recorder in Miami or have it shipped worldwide