nanoFlash for Gates EX1 housing
back to Underwater > Underwater Accessories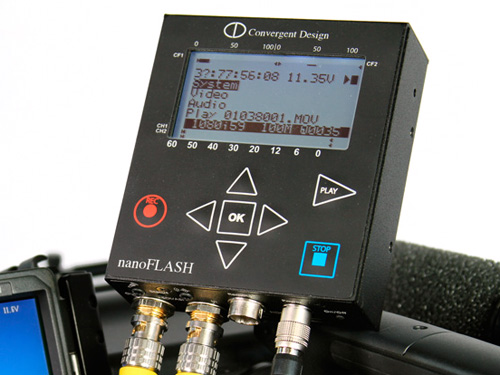 Convergent Design's nanoFlash is the World's Smallest High Quality HD/SD-SDI / HDMI Recorder/Player. It is also the most versatile Recorder/Player in the world in terms of bit-rates, recording options and formats. By adding the nanoFlash, one can meet the 50 Mbps acquisition requirements, for many networks.

Includes special mounting hardware from Gates for use with the EX1 underater housing

"The Sony EX1/EX1R cameras with a Gates housing, SWP44C port and nanoFlash recorder meet the BBC HD requirements for full HD level acquisition.

No other housing manufacturer can claim such a prestigious position for broadcast quality video form the EX1/EX1R (or EX3) cameras. The need for a Gates housing and SWP44C port are key in meeting the BBC requirements.

History suggests the BBC acceptance of a full HD level system means others will follow for their Gold Standard HD acquisition: National Geographic, Discovery, PBS, Animal Planet, etc."




Rent a nanoFlash for Gates EX1 housing in Miami or have it shipped worldwide