Nauticam NA-7D Housing with Canon EOS 7D
back to Underwater > Underwater Camera Packages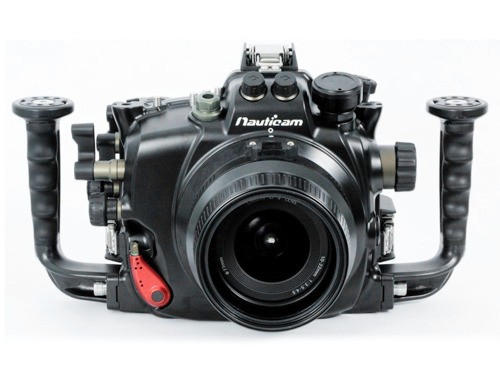 Nauticam is happy to release the Nauticam NA-7D underwater housing for the Canon 7D Digital SLR.

Video enthusiasts will appreciate the special attention given to the video/still photo mode switch and video start/stop button and their convenient proximity to the right grip. Nauticam shooters can switch from still photo to video shooting, and start recording a video clip, without removing their right hand from the handle. No awkward camera shake inducing reaches are required!

An underwater photographer should not have to remove their hands from the housing handles. With the Nauticam Canon 7d Underwater Housing, every control placement decision made during the design of the housing was based on this principal. Long reaches are an awkward compromise, and this housing requires none!

The Nauticam NA-7d underwater housing allows Fingertip access to Shutter Release, Main Control Dial, Quick Control Dial, AF-ON, Still Photo/Video Mode, Video Start/Stop, Star, AF Point Selection, and Set are all offered from the soft rubber overmolded right grip. AF-On, Still Photo/Video Mode, and Video Start/Stop are operated by ergonomic thumb levers. Star, AF Point Selection, and Set are accessed by "piano key" controls built into the backplate of the housing, and easily reached from the right grip. Shutter release is operated via a sensitive, sculpted lever. The Main Control Dial and Quick Control Dial are accessed by enlarged knurled knobs that allow one finger operation.




Rent a Nauticam NA-7D Housing with Canon EOS 7D in Miami or have it shipped worldwide