Sony HDR-FX1 HDV Handycam Camcorder
back to Video Cameras > HD Cameras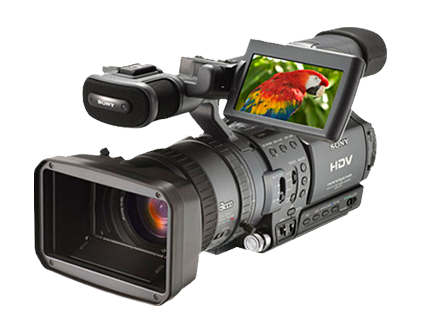 The world's first consumer 1080i high definition camcorder, the Sony Handycam HDR-FX1. A revolution in form and function, the HDR-FX1 allows you to play and record interlaced high definition video at resolutions up to 1440 x 1080 for professional quality video with vivid colors and striking detail. It even offers the ability to switch to standard DV recording and playback as the situation warrants.

The HDR-FX1 features the Real-time HD Codec Engine, which offers professional-level MPEG2 video compression, and 14bit HD DXP (Digital Extended Processor) for increased processing speed. Images are captured on three chip Advanced HAD CCD system that provides increased detail and improved video performance without the color bleeding found in other system. Optical capabilities include a Carl Zeiss Vario-Sonnar T* lens with 12x optical zoom and Super SteadyShot image stabilization.

The HDR-FX1 offers an unprecedented amount of control to the user, including manual zoom, focus, and iris control. Picture Profile allows the user to create a number of preset video modes for a variety of shooting settings. Composing shots is easier than even with the 3.5-in precision hybrid SwivelScreen LCD display1 and the extra-large electronic viewfinder.




Rent a Sony HDR-FX1 HDV Handycam Camcorder in Miami or have it shipped worldwide