Sony NEX-FS100U Super 35mm Sensor Camcorder
back to Video Cameras > HD Cameras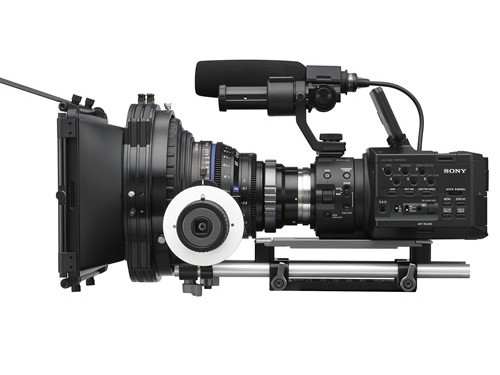 The NEX-FS100U Super 35mm Sensor Camcorder is Sony's first affordable and fully professional large-sensor video camera. Hot on the heels of the PMW-F3, this compact, highly modular camera uses the same S35-size CMOS sensor as the F3. Unlike smaller, broadcast-style sensors or the larger "full-frame" sensors of some DSLRs, the NEX-FS100's imaging area matches that of standard Hollywood film cameras, providing complete compatibility with cine-style film lenses (via optional adapters) as well as any of Sony's E-Mount lenses. The sensor's large size offers a variety of other advantages, including increased control over depth of field, higher sensitivity in low light, lower image noise, and an exceptional dynamic range.

Able to shoot full 1080p video in a range of frame rates up to 60p, the FS100 provides the option of recording 28Mbps AVCHD footage onto SD or Memory Stick media, or it can output uncompressed 4:2:2 video (with embedded timecode) and RGB via HDMI 1.4 to an external recording unit. Simultaneous recording to both is also possible when instant backup is called for. There's no stinting on audio, either, as the camera includes not only a shotgun microphone with mount/carrying handle, but dual XLR inputs for recording uncompressed, professional-level sound from an external source.

Other features--such as a rotating 3.5" XtraFine LCD panel with detachable viewfinder, SD recording, GPS geotagging, and slow shutter--make the FS100 an impressive companion to other cameras in the S35 line. Not only will it intercut perfectly with the F3, F35, or SRW-9000PL as a 2nd unit or B camera, it can stand on its own in applications as diverse as indie film, commercials, music promos, and documentaries.

Choice of Canon or PL mount.




Rent a Sony NEX-FS100U Super 35mm Sensor Camcorder in Miami or have it shipped worldwide