Sony PMW-EX3 XDCAM HD Camcorder
back to Video Cameras > HD Cameras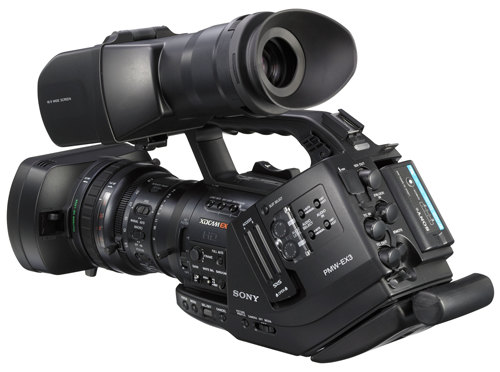 The Sony PMW-EX3 is a flash-memory based high definition camcorder capable of a variety of frame rates and resolutions using Sony's new XDCAM-EX intraframe codec. A "big-brother" to the PMW-EX1, the PMW-EX3 ups the ante by providing an interchangeable lens mount. The mount allows users to put a variety of professional lenses on the camera, including 1/2" and 2/3" bayonet-mounts.

Enhancing both usability and workflow efficiency, the PMW-EX3 has an extensive set of features that push the boundaries of traditional handheld cameras, including a continuous record time of up to 140 minutes! Whether shooting in 720p, 1080i, or 1080p modes, the PMW-EX3 has it all covered. Its bevy of output settings lets users take advantage of fast and slow motion, as well as popular framerates such as the "film-like" 24p mode.

The supplied lens is a Fujinon HD 14X 5.8-81.2 f/1.9.

Includes:
ONE - 32GB SxS Sony Memory Card
ONE - SXS Card Reader
THREE - BP-U60 batteries
ONE - Battery Charger

The PMW-EX3 builds on the success and features of the PMW-EX1 to provide users with 7 additional key features:
- Interchangeable 1/3" Zeiss lens
- Improved high resolution viewfinder (NO FLIP-OUT LCD)
- Image Invert function to allow use of 35mm lenses etc...
- Larger chassis with integrated shoulder brace design
- Genlock input
- Timecode input / output
- Sophisticated remote control operation capabilities

The XDCAM EX series adopts the SxSPRO memory card for its recording media, which Sony and SanDisk Corporation jointly developed specifically for professional content creation applications. The SxS PRO memory card is an ultra-compact nonlinear medium that uses flash memory with a number of key features:
- Compatible with ExpressCard3/4 interface slot which is common on modern Windows PCs and Macs
- Uses PCI Express interface and achieves an extremely high "read" speed of 800 Mb/s*
- Large storage capacity: SBP-8 (8 GB) and SBP-16 (16 GB) memory cards are available. One SBP-8 (8 GB) memory card is supplied with the PMW-EX3
- Can record up to 70 minutes of HD video and audio (using one 16-GB memory card)
- Compact size: approx. 75 34 5 mm (excluding the projecting parts) - half the size of the older PC Card standard
- Low power consumption
- Highly reliable: can resist shocks (up to 1500 G) and vibrations (up to 15 G)





Download:
PDF, Camera Operating Instructions

Rent a Sony PMW-EX3 XDCAM HD Camcorder in Miami or have it shipped worldwide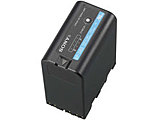 Camera rentals INCLUDE 3 batteries.
Choose this item if you need additional batteries.

Lithium-ion, 14.4v, 56 watt hours

The Sony BP-U60 is a lithium-ion battery designed for professional video shooting in both the field and the studio. This battery is equipped with the INFO function that communicates battery status data to the PMW-EX1, PMW-EX3 camcorders.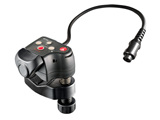 The Manfrotto 521EX Sony PMW EX1 Remote Control is designed specifically for the Sony EX series video cameras.

Functions:
- Zoom: professional "wheel" zoom for finer adjustments and smoother progressions
- Zoom Reverse Control - invertible zoom direction; zoom in/out can be inverted (left to right or right to left)
- Zoom Speed Control
- Fast Zoom - can also be used without modifying zoom speed control
- Fast Zoom Preset
- Dedicated plug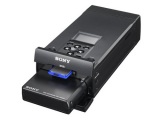 The Sony PXU-MS240 Mobile Storage Unit is a portable and lightweight recording device which makes it easy to transfer and store footage recorded on SxS cards. By using proprietary mobile drives, the PXU-MS240 can transfer XDCAM EX footage and extremely high rates, making it ideal for field archiving. With the ability to store up to 11 hours of footage on one drive, the unit is versatile enough for shooting documentaries, indie films and weddings. With the ability to connect to a PC or Mac via both eSATA and USB 2.0, the drive is both fast and flexible, no matter what your workstation requires.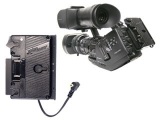 The Anton Bauer QR-EX3 is a mount for the Sony PMW-EX3 XDCAM EX camera. The mount attaches to the rear of the camera and holds both Dionic 90 and HyTron 50 Anton Bauer batteries. The battery pack not only provides additional power to the camera, but also acts as a counter-balance, making the camera easier to mount on one's shoulder.

The 77mm T1 Infrared Filter from Tiffen is a high-tech filter targeted towards eliminating infrared contamination at 680nm. This filter will assist you in maintaining your color spectrum when shooting against a dark fabric. You will notice the blacks turn out true with no color cast from the red end of the spectrum.

This filter has been created to help capture a much broader spectrum of color than previous infrared filters - particularly with digital camcorders. Color shift is a critical factor in digital photography especially when dealing with the infrared spectrum - and even more important when shooting with HD technology.
Unlike traditional film cameras, CCD or CMOS sensors of a digital camera are, by nature, susceptible to infrared contamination. Manufacturers try to avoid this problem by incorporating an infrared absorbing filter on top of the image sensor. Because these filters do not have a sharp cutoff at the infrared wavelengths there has to be a compromise in order not to exclude visible red wavelengths. Despite these precautions, some infrared wavelengths pass through resulting in contamination of the image.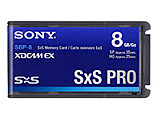 XDCAM EX Series Memory Card

One 8GB card is included with an XDCAM camera rental.

Recording Time:
HQ 1920x1080/60i, 720/60p = 25 minutes
SP 1440x1080/60i = 35 minutes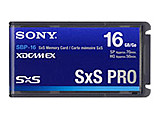 XDCAM EX Series Memory Card

Recording Time:
HQ 1920x1080/60i, 720/60p = 50 minutes
SP 1440x1080/60i = 70 minutes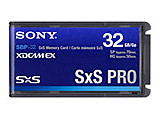 XDCAM EX Series Memory Card
WARNING!!! This card will not function in Sony EX1 cameras unless the software has been upgraded with new version 1.11 firmware from Sony (this normally requires shipment of camera to Sony).

Recording Time:
HQ 1920x1080/60i, 720/60p = 100 minutes
SP 1440x1080/60i = 140 minutes
*Disclaimer:
Photos are for illustration only. Prices do not include
optional accessories or extra equipment that may be shown.