IDX CW-5HD Cam Wave HD Video Wireless Transmission System
back to Video Cameras > Transmitters, Receivers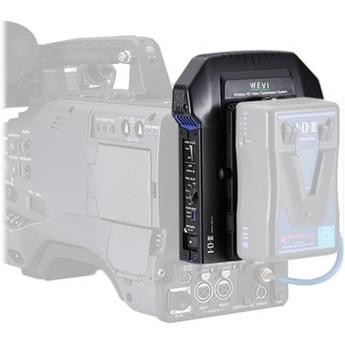 The IDX CW-5HD Cam-Wave HD is a wireless transmitter and receiver designed to connect HD video cameras to either a monitor or recording device. The system produces an uncompressed signal without the need to run any pesky cables, at a range of up to 150'. The transmitter can run off 1 V-Mount series battery or function off DC power through its 3-Pin XLR input. Weighing in at a little over 1.8 lbs, the CW-5HD provides premium high definition wireless support without adding additional bulk to the entire camera.

Uncompressed Wireless Signals
The CW-5HD transmits pristine video from either SD-SDI or HD-SDI, producing a completely uncompressed signal. The signal can then be fed into a field monitor, studio monitor, or recording deck. Additionally, video signals can be transmitted with 256-bit encryption, making sure there are no "prying eyes".

Instant Transmission
The CW-5HD has less than a 1ms latency between transmitting and receiving.





Download:
Operation Manual

Rent a IDX CW-5HD Cam Wave HD Video Wireless Transmission System in Miami or have it shipped worldwide