Kessler Revolution Pan/Tilt Head w/ORACLE Controller
back to Camera Support > Misc Camera Support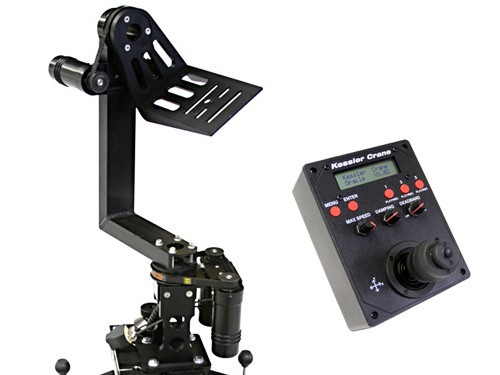 The Kessler REVOLUTION Pan and Tilt System is our answer to the need for an affordable, quality motorized pan and tilt head. After two years of development, we have produced a motorized head that addresses the failings of other pan / tilt heads in this price range. When paired with the ORACLE Controller, we honestly feel the REVOLUTION is the most feature rich and best motorized head solution on the market.

REVOLUTION Head Features:
- Billet aluminum with stainless steel hardware construction.
- Dual motors for each axis, provide zero backlash and 100% holding power (no drifting).
- Superior Dynamic Range. Unit is both faster and slower than other heads at similar price point.
- Ball bearing and belt drive to eliminate gear to gear noise.
- Pass-through axle points, for easy cable routing.
- Cabling is CAT5 / CAT6 cable with RJ45 connectors (standard network cable). NO EXPENSIVE PROPRIETARY CABLES!!
- Unit Weight: 10 lbs.
- Weight Capacity: 20 lbs.

ORACLE Controller Supported Features:
- Now includes SmartLapse programmable motion control.
- Backlite LCD display with menu and setting values.
- Fully adjustable controls for Max Speed, Dampening, and Dead Band.
- Movement Recording / Memory Function with three memory banks.
- Time Lapse control
- Premium Multi-Function Joystick
- Joystick orientation can be easily set in the menu.
- Cabling is CAT5 / CAT6 cable with RJ45 connectors (standard network cable).
- Powered by standard AC power supply with wall plug, or optional 12v DC adapter and battery pack.




Rent a Kessler Revolution Pan/Tilt Head w/ORACLE Controller in Miami or have it shipped worldwide