Movi M5 / M10 Dual Operator Controller
The Remote Controller brings Dual Operator Mode to the MoVI M5 or the MoVI M10. This lets one operator to concentrate on framing and the other on maneuvering, allowing for unrestricted and incredible camera moves.




Rent a Movi M5 / M10 Dual Operator Controller in Miami or have it shipped worldwide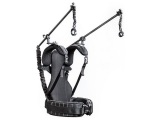 Use the Ready Rig GS Stabilizer to transfer the weight of a gimbal-mounted camera away from an operator's arms and shoulders. By redistributing the load to the user's hips and core, this rig enables you to extend your shooting time and lessens operator fatigue. It also reduces the bounce motion sometimes seen when doing handheld gimbal shots. The Ready Rig GS works with any gimbal in standard or underslung mode.

The Ready Rig GS features a load capacity range of 1 to 30 pounds, carbon fiber support arms, and an aluminum frame. Its slim, compact profile suits it for use in tight spaces and car interior shots. A soft, zippered carrying case is included with this kit.

The entire gimbal stabilizer vest can easily fit through a standard doorway allowing the operator more freedom of movement on set and less bumping into things.

Features:
- Supports any gimbal/camera rig from 1-30 pounds
- Provides vertical axis stabilization while reducing operator fatigue
- Slim, lightweight design with carbon fiber support arms and aluminum components
- Operate gimbal in over- or under-slung configuration
- A soft, zippered carrying case is included in the kit
*Disclaimer:
Photos are for illustration only. Prices do not include
optional accessories or extra equipment that may be shown.