Movi M10 3-Axis Brushless Gimbal Stabilizer
back to Camera Support > Stabilizers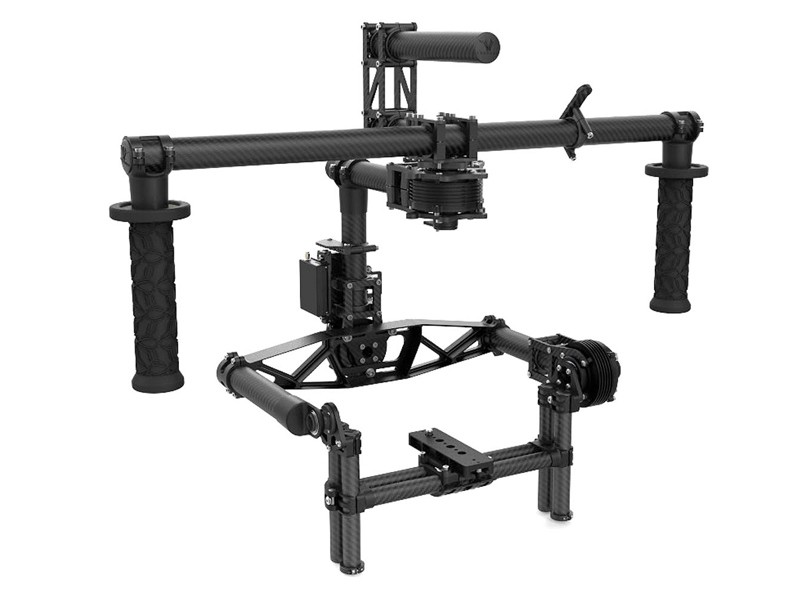 You may arrive early with camera and lens to prep, balance and familiarize yourself with equipment.

The MOVI M10 3-Axis Motorized Gimbal Stabilizer from Freefly is a camera stabilization system that uses three motors and an IMU (inertial measurement unit) to detect and counteract unwanted movement along three axes: pan, tilt, and roll. In particular, it works to compensate for handshake or vehicle-induced vibration as well as reduce translation. It is designed for DSLRs and smaller cinema cameras and can accommodate cameras weighing up to 12 pounds. There is a quick-release adapter available separately so that it can be mounted on cranes, jibs, vehicles mounts, and other camera support equipment.

The system supports single- or dual-operator control. In single user (Majestic) mode, the system's software intelligently differentiates unwanted shake or vibration from intentional movement, such as panning, while keeping the horizon level. Alternatively, you can have a dedicated operator (Stabilized Slew mode) with a remote control or RC transmitter who is in charge of camera pan, tilt--and if you want--roll. In this configuration, the camera will always point where the operator of the remote tells it to, independent of how the rig operator moves.

Features:
- Designed for Hand-Held Use
- For DSLRs and Cinema Cameras up to 12 lbs
- Keeps Horizon Level and Counteracts Drift
- Single and Dual Operator Control Modes
- Supports DSMX and SBUS RC Transmitters
- Bluetooth Interface for Configuration
- Software for Android and Windows
- Shot Recorder Remembers Camera Position

Specifications
- Weight: 3.4lb / 1.5kg
- Camera cage dimensions: 7.9 x 5.5 x 7.9" / 200 x 140 x 200 mm
- Maximum payload: 12lb / 5.4kg with compatible camera / lens combinations.

MoVI M10 Package Includes:
- MoVI M10
- (4) Batteries
- Battery Charger
- MoVI Stand
- Nexus Android tablet for bluetooth tuning

***** IMPORTANT NOTICE: *****
All gimbal devices (Ronin and Movi) require familiarization with the delicate and tricky balancing procedures as well as practice operating them once the complex balance has been achieved. Keep in mind that even the zooming of a lens can alter the balance.

In the beginning, it is recommended that you spend time as much time as possible practicing moves before your shoot. Remember to keep your shots efficient and short or the rig will become "heavy" to you sooner rather than later!

You may practice at Budget Video's facilities and we will give you a free shoot tutorial. Longer classes are sometimes available at a modest cost. Ask your account executive for details.

THERE ARE NO REFUNDS ON GIMBAL RENTALS

*Camera Not Included
**The radio controller for Dual Operator Mode is available as an optional accessory.

ASSISTANTS AND OPERATORS ARE AVAILABLE

Supported Cameras
The MOVI M10 is meant to support DSLRs and smaller cinema cameras weighting up to 12 pounds. Cameras that have been tested on the system include the Canon C500, Canon C300, RED EPIC, RED Scarlet, Blackmagic Cinema Camera, Canon EOS-5D Mark III, Panasonic DMC-GH3, and Sony NEX-FS100.

Supported Lenses
The system has been tested with focal lengths up to 120 mm. Larger sizes may technically be used as long as the 12 pound total weight limit is respected; however with longer there is an increased risk of collision with gimbal components.

Remote Operation
The MOVI can be operated remotely either with a dedicated controller or using an RC aircraft transmitter (hand-held radio controller). It supports Spektrum DSMX and Futaba SBUS transmitters with at least six channels, including the Spektrum DX7s. Wireless range will vary depending on the transmitter used.

Three Control Modes
- Majestic Mode: For single-operator use. In this mode the gimbal provides stabilization without counteracting operator-directed camera movements--the camera goes where you point the handles. This mode is ideal for accurate framing in tight situations.
- Stabilized Mode: Assumes no operator input, compensating for all movement it detects. Ideal scenarios for this mode include when the gimbal is mounted to a car or shots where the camera is moving but the camera angle remains fixed.
- Slew Stabilized Mode: For dual-operator control. In this mode an operator with a dedicated remote or RC transmitter controls pan, tilt, and roll independently of the gimbal handler's movements.

Drift Free Horizon
The gimbal uses a GPS-assisted IMU that when used outdoors with available satellite signals is able to minimize drift even when under acceleration--such as where the camera is mounted on a UAV or vehicle.

Live Wireless Tuning and Graphing
A real-time Bluetooth wireless link is provided by the gimbal which transmits performance data for live adjustment of any of the gimbal parameters using software for Windows or Android.

Silent Drive
The motors driving the gimbal have been designed to operate as quietly as possible to ensure you will be able to record sound without picking up any unwanted noise.

Translation Compensation
Making hundreds of adjustments per second, the software works to counteract translation--the bobbing up and down effect while running--when tracking a moving subject moving at high speed. In this situation translation may be unavoidable, but at least the subject will remain in-frame.

Shot Recorder
Keeps a record of the camera position (where GPS is available), height, camera pan, tilt, and roll so that the shot can be recreated later or to help Visual Effects align the live action shot with other elements in a CG composite.

Third-Party Mounting
Using separately available mounting hardware it is possible to mount the MOVI on cranes, jibs, Steadicams and similar vest-supported stabilizers (where it corrects for angular error), and other camera support hardware. It has also been verified to work on an Easyrig.

User Adjustable "Shakey Cam"
Want an organic hand-held look? The MOVI provides variable noise filters that allows you to effectively dial in a custom amount of shake to help you achieve the effect you are after.




Rent a Movi M10 3-Axis Brushless Gimbal Stabilizer in Miami or have it shipped worldwide


Call for a Quote

The Remote Controller brings Dual Operator Mode to the MoVI M5 or the MoVI M10. This lets one operator to concentrate on framing and the other on maneuvering, allowing for unrestricted and incredible camera moves.
*Disclaimer:
Photos are for illustration only. Prices do not include
optional accessories or extra equipment that may be shown.