Movi M5 3-Axis Brushless Gimbal Stabilizer
back to Camera Support > Stabilizers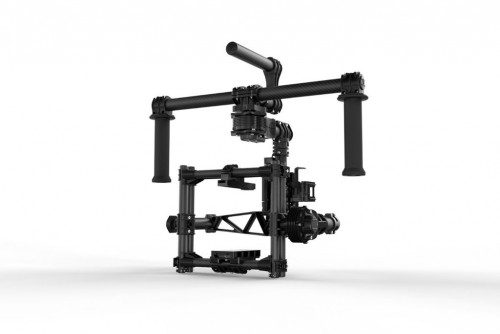 You may arrive early with camera and lens to prep, balance and familiarize yourself with equipment.

Bring big-budget camera moves to your productions. The MoVI M5 draws on the advanced stabilization technology developed for the MoVI M10 allowing for amazingly smooth footage in even the most demanding situations. The compact form factor and lightweight nature of the MoVI M5 allows camera movement that would be impossible in the past. With the release of the MoVI M5, Freefly aims to bring big budget caliber camera moves to a wider range of productions. Introducing a handheld 3-axis digital stabilized camera gimbal, so advanced, it redefines the possibilities for camera movement. The heart of the gimbal is Freefly's proprietary high performance IMU and brushless direct drive system. The gimbal is 100% custom designed in-house by our engineering team. No compromises were made to accommodate off-the-shelf brushless motors, motor drives or IMUs. Creating the gimbal from scratch allowed Freefly to precisely execute our vision for the next generation of stabilized camera gimbals. In creating this camera gimbal, we aim to empower a new era of stabilized cinematography. Freefly MoVI - "The New Moving Picture."

Features:
- Fully enclosed camera cage for maximum rigidity and shot stability
- Improved adjustable camera plate
- Fully protected wiring
- Simplified fully tool-less balancing
- Inverted mode for more comfortable eye level camera angle
- Quick release top handle to allow for rapid adjustment

Specifications
- Weight: 4.75lb / 2.15kg
- Camera cage dimensions: 130mm (Length) x 180mm (Width) x 120mm (Height)
- Maximum payload: 5lb / 2.27kg with compatible camera / lens combinations.

IMPORTANT: The MoVI M5 has a maximum payload of 5 pounds.
If you have a heavier camera, we recommend the MoVI M10 or DJI Ronin

MoVI M5 Package Includes:
- MoVI M5
- (4) Batteries
- Battery Charger
- MoVI Stand
- Nexus Android tablet for bluetooth tuning

***** IMPORTANT NOTICE: *****
All gimbal devices (Ronin and Movi) require familiarization with the delicate and tricky balancing procedures as well as practice operating them once the complex balance has been achieved. Keep in mind that even the zooming of a lens can alter the balance.

In the beginning, it is recommended that you spend time as much time as possible practicing moves before your shoot. Remember to keep your shots efficient and short or the rig will become "heavy" to you sooner rather than later!

You may practice at Budget Video's facilities and we will give you a free shoot tutorial. Longer classes are sometimes available at a modest cost. Ask your account executive for details.

THERE ARE NO REFUNDS ON GIMBAL RENTALS

*Camera Not Included
**The radio controller for Dual Operator Mode is available as an optional accessory.

TV Logic 5.6 Monitor available at $99

ASSISTANTS AND OPERATORS ARE AVAILABLE

Additional MoVI M5 Features:

Majestic Mode (Pan/Tilt)
Patent pending Majestic Mode allows for a single operator to intuitively control the pointing of the gimbal by moving the handles without compromising the stabilization of the image. The gimbal takes the operator's movements and intelligently converts them into stabilized pan and tilt movements. This allows for very low profile single operator setup and accurate framing in tight situations.

Live Wireless Tuning and Graphing
A next generation stabilized gimbal deserves a fast, intuitive and user friendly GUI (graphical user interface). The MoVI features a real-time bluetooth connection to the gimbal, which outputs all pertinent performance data and allows for live adjustment of any of the gimbal parameters.

Remote Firmware Updatable
The MoVI stabilized camera system is firmware updatable. When Freefly adds a new feature on Friday night, you can be shooting with it on Saturday morning. As the system is used in varying cinema applications, Freefly is constantly inventing new solutions for the rigors operators face in using the system to execute demanding shots.

Silent Drive
Capturing on-camera audio is no problem with the MoVI, as the system is virtually silent. Because the entire motor / drive system was designed in-house, we were able to reduce the noise frequency signature of the gimbal to a virtually inaudible level.

Custom Direct Drive Motors
High torque and lightweight are two attributes that don't usually go together. When we started to design the MoVI system, we knew that no off-the-shelf motor could deliver the performance needed, while keeping the weight low enough to allow the system to be mobile, portable and agile. Drawing on years of brushless motor design experience, Freefly was able to create a remarkably lightweight motor that still has enough torque to handle larger camera packages.

User Adjustable Shaky Cam
In some instances, camera movement / shake is a desirable aesthetic choice. The difficult part is quantifying the amount and type of 'shake' to effectively convey the emotion of the scene. The MoVI overcomes this limitation by allowing the user to define variable noise filters that mimic the user's movements. Being able to control the level of 'noise' is highly useful, as it can be difficult for a human operator to accurately maintain a consistent level of camera movement, especially while keeping a compelling frame. With the patent pending MoVI noise filter, the camera operator can focus on framing and the MoVI takes care of the rest consistently and repeatably.



Rent a Movi M5 3-Axis Brushless Gimbal Stabilizer in Miami or have it shipped worldwide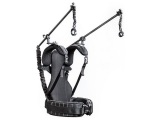 Use the Ready Rig GS Stabilizer to transfer the weight of a gimbal-mounted camera away from an operator's arms and shoulders. By redistributing the load to the user's hips and core, this rig enables you to extend your shooting time and lessens operator fatigue. It also reduces the bounce motion sometimes seen when doing handheld gimbal shots. The Ready Rig GS works with any gimbal in standard or underslung mode.

The Ready Rig GS features a load capacity range of 1 to 30 pounds, carbon fiber support arms, and an aluminum frame. Its slim, compact profile suits it for use in tight spaces and car interior shots. A soft, zippered carrying case is included with this kit.

The entire gimbal stabilizer vest can easily fit through a standard doorway allowing the operator more freedom of movement on set and less bumping into things.

Features:
- Supports any gimbal/camera rig from 1-30 pounds
- Provides vertical axis stabilization while reducing operator fatigue
- Slim, lightweight design with carbon fiber support arms and aluminum components
- Operate gimbal in over- or under-slung configuration
- A soft, zippered carrying case is included in the kit

The Remote Controller brings Dual Operator Mode to the MoVI M5 or the MoVI M10. This lets one operator to concentrate on framing and the other on maneuvering, allowing for unrestricted and incredible camera moves.
*Disclaimer:
Photos are for illustration only. Prices do not include
optional accessories or extra equipment that may be shown.