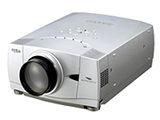 Utilizing high-output 318-watt UHP lamps as its light source, the PLC-XP57L delivers an amazing 5,500 ANSI lumens of brightness. It contains an optical compensator with a High- Contrast Optical System that achieves a contrast ratio as large as 1000:1, exhibiting more natural and smooth gradation.

Includes Sanyo LNS W31A Wide angle motorised short throw zoom lens.

Throw Ratio: 2.36
Distance: 6' to 48'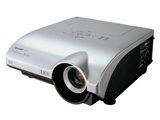 The Sharp XG-PH70X is perfect for conference facilities, lecture halls, rental, staging, and house of worship. The projector is not short on features, quality, or performance. With 5200 ANSI lumens brightness, and XGA native resolution, the XG-PH70X is perfect for most applications. With Sharp's advanced DLP Optical Engine, matched with dual 260W high-brightness lamps, the XG-PH70X achieves 5200 ANSI lumens, with excellent contrast and uniformity, delivering bright, clear images in large highly-lit rooms.

The XG-PH70X employs a DLP display device system which outshines the alternatives because, being mirror-based, uses light more efficiently. While other technologies lose a certain amount of light in transit, the microscopic mirrors in this system bring more light from lamp to screen. The hundreds of thousands of mirrors in the DLP Digital Micro-mirror device are spaced less than one micron apart, resulting in a very high fill factor. By minimizing the gaps between pixels in a projected image, DLP projection systems create a seamless digital picture that is sharp at any size without pixelation or a "screen door" effect.

Features:
- 5200 ANSI Lumens
- XGA (1024 x 768)
- 1200:1 Contrast Ratio
- Intelligent Dual Lamp System
- RJ-45 LAN Connection
- Power Lens Shift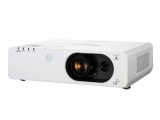 With 3500 lumens and a 600:1 contrast ratio, the Panasonic PT-FW430U WXGA LCD Projector possesses the image power to project vivid, saturated pictures in a variety of lighting situations. Panasonic's LCD projector offers brighter and more vivid images with full high definition resolution.

The Panasonic PT-FW430U Projector touts a Daylight View Premium feature that provides bright, crisp images even in brightly lit conditions for a superb picture no matter the time of day. Along with the RGB Booster, this combines high brightness and superb color reproduction; a host of technologies work together to enhance image quality.

The unit houses an advanced dust-resistant design, which minimizes image degradation by reducing the entry of dust into the unit. The effect of dust has been minimized by completely sealing the optical block, which provides an airtight structure that is impenetrable to any outside elements. The unit is a dual lamp design and auto cleaning filter technology extends operating stability and contributes to reliability. It is no secret that the Panasonic PT-FW430U projector is brighter and better than ever with a compilation of numerous Panasonic proprietary technologies.

Features:
- 3500 Lumens
- WXGA 1280 x 800 Resolution
- 6000 Hour Lamp Life
- Dust Resistant Cabinet
- 2x Zoom Lens
- Compatible with iPad, iPhone & iPod
- Detail Clarity Processor 3
- Daylight View Premium
- HDMI x 1
- Worldwide Compatibility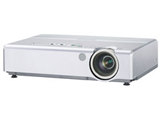 With a lightweight frame, 3200 powerful lumens, and an impressive feature set, the Panasonic PT-LB60U projector is the ultimate portable presentation partner. New Daylight View technology in the Panasonic PT-LB60U projector adds punch to colors in well lit spaces, while a very convenient direct power off allows presenters to unplug the projector immediately, without risk of harming lamp life.
XGA (1024 x 768)

Throw Ratio: 1.76
Distance: 5' to 30'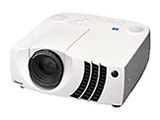 Sony's VPL-PX31 is perhaps the ultimate in high-performance LCD projectors. The high brightness of 2,800 ANSI lumens via a 200-watt UHP lamp ensures an ultra-bright image, and the three-panel LCD technology ensures good uniformity and color reproduction. The projector, which can be used for installation or portable applications, also has the ability to handle variable throw distances by use of optional lenses.

Throw Ratio: 2.33
Distance: 9' to 38'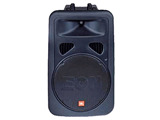 Processor-Controlled 400-Watt 2-Way PA Speaker System with 12' Woofer and 1.25' Titanium Compression Driver.

With more than 300,000 systems already being used in applications from live sound reinforcement, speech and vocals to music playback in entertainment, A/V and institutional environments, the JBL EON system is firmly entrenched as the industry leader in powered portable speaker systems for audiences of hundreds.

- This unit is NOT BATTERY POWERED.
- Includes Stand.


Download:
PDF, User's Guide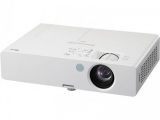 The Panasonic PT-LB3U XGA Portable Projector is a high-performance LCD projector designed to accommodate installations from permanent ceiling-mounted to simple desk-mounted use. With 3200 ANSI lumens of brightness, whether in the classroom or the boardroom the projector delivers crisp HD performance. It improves perceived sharpness, brightness and contrast, and projects lifelike images with remarkable depth.


Panasonic's Daylight View Basic technology achieves sharp, easy-to-see images by clearly reproducing the details in dark image areas, which were previously difficult to see in brightly lit rooms. A built-in sensor measures the ambient light, and the Daylight View Basic function adjusts the halftone color and brightness level according to the surrounding illumination.

A 5000 hour lamp replacement cycle saves operating costs. Also, the Intelligent Power Management function allows the projector to continue operating even when the power supply voltage is fluctuated.

Setup is fast and easy thanks to features like Speed Start, which brings up the image quickly, and simple, single-leg adjustment of the projector angle. A built-in closed-caption decoder makes it an ideal teaching tool, along with features like side-by-side imaging and it is the size of an A4 file and weighs only about 5 lb. (2.3kg). Its handy size and weight make it easy to carry from room to room, or to a client's office for an on-site presentation. It gives you sharp, clear images wherever and whenever you need them.

Besides its many performance attributes, the PT-LB3U projector is bottom-line friendly. Additionally, it combines a dust-resistant design with an ecological design.