Rent Sound Kits
These kits feature popular selections of audio products for common tasks.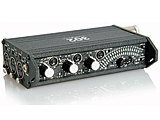 [
+ enlarge
]
(1) Sound Devices 302 3 Ch portable mixer
(1) Sennheiser MKH-416P shotgun microphone
(1) boompole
(2) Sony ECM-77B mini omni lavalier microphones with XLR power supplies
(1) Sony MDR7506 Professional Studio Headphones
(2) 25' XLR Cables
(1) adapter kit

The Sound Devices 302 mixer is recommended for very experienced sound technicians. The Shure FP33 is also three channels and much easier to use.