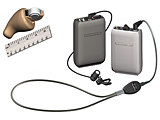 [
+ enlarge
]
The RC-216 Receive-A-Cue system is a professional quality, digitally synthesized wireless cueing system operating in the interference-free 216-217 MHz band. The IR-230D induction receiver and NTC-102 neckloop eliminate the need for visible wires going directly to the ear. With the adjustable volume control and low residual noise, this discrete earpiece is loud enough for even the most demanding environments. The dual function M-216 transmitter can be used with a lapel microphone for live cueing, or the AUX input and whip antenna can be used to send cues from a line level audio input source. Also, the AUX input on the transmitter allows for prerecorded material to be played back from another sound source such as an MP-3 player, dat recorder, or even a feed from a mixing board.

The complete RC-216 system includes:
- M-216 wireless microphone transmitter
- CM-183 omnidirectional lapel microphone
- PR-216 personal receiver
- NTC-102 neckloop transductor
- SM-N earphone assembly
- IR-230D inductor receiver
- Auxiliary audio input cable
- C-216 carrying case

More Details...