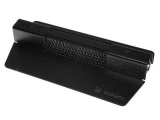 Includes TA3 to XLR cable.

Industry-standard stage-floor mic catches the full dynamics of stage sound. The Crown PCC-160 Boundary Mic is a great mic for theater, large-group performances, lecterns, and happenings.

The Crown PCC-160 (Phase Coherent Cardioid) is a surface-mounted halfsupercardioid microphone intended for professional applications on stage floors, lecterns, conference tables, and news desks-wherever improved gain-before-feedback and articulation are important. Similar to the Pressure Zone Microphone (PZM), the PCC is designed to be used on a relatively large boundary surface. Unlike the PZM, the Phase Coherent Cardioid uses a miniature
supercardioid mic capsule. Its directional polar pattern improves gain-before-feedback, reduces unwanted room noise and rejects sounds from the rear. Surface-mounting creates a "half-supercardioid" polar pattern and increases directivity 3 dB. Since the microphone capsule is placed on a boundary, direct and refl ected sounds arrive at the diaphragm in-phase. This coherent addition of direct and refl ected waves increases sensitivity 6 dB and prevents phase cancellations. The mic capsule is small enough to ensure phase coherency up to the highest frequencies in the audible spectrum, resulting in a wide, smooth frequency response free of phase interference. Clarity and reach are also enhanced.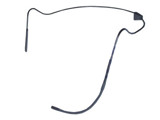 The Madonna VT700 frees performance to focus on the task at hand. These features are ideal for users in: event production, public speaking, theater and broadcast audio. The smooth sounding omnidirectional pattern offers sonic quality without penalty of proximity effect.

Element: Subminiature Electret
Polar Pattern: Omni Directional
Freq. response: 50Hz-18KHz
Noise Level: 27dB "A" weighted
S/N Ratio: 67dB@94dB SPL
Impedance: 4.4K Ohms
Dynamic Range: 88dB
Power supply: 9V
Weight: 17 grams

Important Note:
Madonna headsets are terminated with a Lectrosonics 400 Transmitter or SMQV Transmitter.