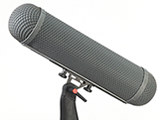 The Modular Windshield (zeppelin) is slid onto the Modular Suspension, and completely surrounds the microphone and its connector. Designed to provide significant improvement in exterior wind attenuation (up to 25dB). Twist and turn locking end caps provide easy, rattle free and secure fastening. slide-on/slide-off system allows easy removal of the microphone and suspension. Lightweight with a minimum of parts, it is tough enough to withstand the rigors of ENG and simple to use straight out of the box.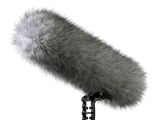 The most effective cover, providing 10 12db extra protection over a standard Windshield. Made from specially designed and manufactured screening materials with virtually no adverse effect on sound level or quality. Fitted with a drawstring & toggle to allow snug and easy fitting.
For Sennheiser MKH 816 Microphone.
The Modular Windshield is a "Blimp" or "Zeppelin" style of basket which completely surrounds the microphone and its connector, providing a volume of still air around the microphone, this gives exceptional protection against wind-noise, of up to 25dB, with minimal HF loss.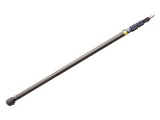 Ambient Recording's Quickpole Xtra Light Boom is made from the industry's strongest, stiffest carbon fiber tubing; the boom is excellent for achieving lengths of over 13' and does not tighten in cold or wet climates. Tubing has a 1.5 mm thickness that is lightweight but offers very low transmission noise when the boom is handled. At the tip is a machined, stainless steel 3/8" thread. Secure screw locks and an internal spacer enhance the boom's safety features. The Quickpole Boom can be easily disassembled for cleaning.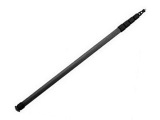 The K-TEK is a very lightweight, superbly engineered, and meticulously crafted 5 section boompole made from a graphite fiber derivative in a black matte finish. It is used primarily for film and video field production.

The dimpled graphite section collar locks are highly durable and jam resistant, twist adjusting easily and precisely. The Quick Connect poletop option, featuring stainless steel threading and cable retention slots, is standard with this model, adapting a variety of mounting and wiring solutions.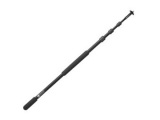 The Gitzo GB1340 Series 1 Aluminum Boompole features 4 sections, is lightweight and handles a load capacity of up to 4.40 lbs (2kg); making it well suited for mounting micropones and shock-mounts in the field or indoors. The GB1340's G-Lock system provides fast and reliable locking on all 4 sections. The 1.2mm thick aluminum material is lightweight and features a matte-black brushed finish.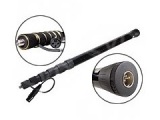 VDB-606 carbon fibre microphone boompole, 6 section - 600-2750mm

The VDB (Van den Bergh) range of Carbon Fibre boom poles are the best available. The 6-series range of VDB microphone boom poles integrates the most advanced technologies in carbon fibre manufacturing to increase their strength and stiffness. Not only more rigid, VDB have also improved on the lightness that has made them famous for over a decade.