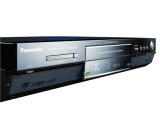 [
+ enlarge
]
Offering unprecedented versatility for video production systems, the DMR-T3040 teams a DVD-RAM/DVD-R recorder with a built-in 40-Gigabyte hard drive to provide expanded flexibility for viewing, recording and DVD duplication. The large-capacity DMR-T3040 records up to 52 hours (in the EP mode) of video on its 40GB hard disk drive, 12 hours on a 9.4GB double-sided DVD-RAM disc, and 6 hours on a DVD-R disc.The DMR-T3040 is equipped with an IEEE 1394 input to permit the high-speed transfer of digital video from a IEEE 1394-equipped DV camcorder, like the full-size AG-DVC200, to the hard drive, and the unit's PC card slot makes it easy to copy images from a digital still camera. The DMR-T3040 offers a programmable auto renewal recording function that can be programmed to automatically record video, such as a satellite feed, at a specific time daily or weekly onto the hard drive, as well as a relief recording feature that automatically records to the hard drive when a DVD-RAM or DVD-R disc is full.

More Details...



Download:
PDF, Recorder Operating Instructions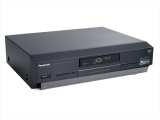 [
+ enlarge
]
The Panasonic DMR-T2020 is a DVD Video Recorder, which records onto DVD-RAM or DVD-R discs (DVD-R discs are compatible with most conventional DVD players). It supports playback of CD, Video CD, CD-R/RW formats. The recorder features high performance VBR MPEG-2 encoding and AC-3 Audio for high-quality video and audio. With simultaneous recording and playback you can record video while you're playing back previously recorded content. Time Slip Playback allows you view content that you're currently recording from any point that's already been recorded. Rearrange the order of scenes, skip over unwanted scenes, or copy selections - and create custom playlists of favorite scenes on a disc.

More Details...