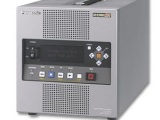 [
+ enlarge
]
Converts variable-frame rate footage from Varicam to 24fps. Converts 720P to 1080/24P, 1080/60i or 1080/50. Ideal for field production and post production. Immediate viewing of undercranked or overcranked off-speed effects. Extracts designated frames and records HD footage (up to 100 minutes) to internal hard drive for playout, HD-SDI, composite and SDI available, Half-rack, 5-RU size with easy-to-use VTR-type control panel, Remote control via 9-pin RS-422.

Compression system: DVCPROHD (720/60p)

Playback output formats:
1080/23.98p, 24 p, 25 p, 50i, 59.94i, 60i, 720/60p, 59.94p, 24p, 25p, 30p, 60p

Connectors:
- HD SDI in/out (BNC)
- SD out (BNC), optional
- Analogue composite out (BNC)
- RS-422A machine control (9-pin)

More Details...