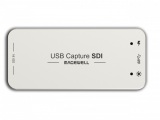 Convert non-USB Video Cameras to a USB 3.0 power house. The Magewell converter works with the major operating systems for a high quality image. Works with Skype for Business.

Features:
- Compatible with various USB 3.0 chipsets (Intel, Renesas, ASMedia, Fresco Logic), compatible with expended USB 3.0 via PCIe Gen1.1 x1
- Compatible with USB 2.0
- Compatible operating systems: Windows (7, 8, 8.1), Linux (kernel version 2.6.38 and above), OS X (10.8 and above)
- Support APIs, such as Windows: DirectShow, DirectSound, Linux: V4L2, ALSA, OS X: QuickTime
- Support software including Windows Media Encoder (Windows), Adobe Flash Media Live Encoder (Windows, OS X), Real Producer Plus (Windows), VLC (Windows, OS X, Linux), QuickTime Broadcaster (OS X), QuickTime Player (OS X), Wirecast (Windows, OS X) and etc...
- Support up to 1920x1200p60 (CVT-RB) Video Input
- Video output support up to 1920x1200p60 in YUY2
- Video output support up to 1920x1200p60 in RGB24
- The process of video and audio is done by the dongle and will not occupy CPU.
- Connect multiple dongles to one machine
- Enable the up/down conversion of video resolution, frame rate and audio sampling rate
- Support brightness, contrast, hue, saturation, and other screen adjustment functions
- The 3G/SD/HD SDI video capture meets UVC standard, support YUV 4:2:2 (YUY2) or RGB 4:4:4 (RGB24) video output
- The 3G/SD/HD SDI video capture meets UAC standard and 48KHz PCM stereo audio output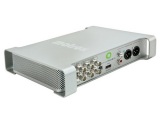 The MXO2 LE (Laptop) from Matrox is a device designed to provide all the features of an I/O card in a sturdy, portable breakout box. It features both professional audio and video connectivity. The device can easily be moved among the laptops in your facility or in the field as the need arises. This model is designed for use with both Mac and PC laptops.

This solution offers broadcast-quality audio & video input and output. Calibration controls include blue-only. You also benefit from a wide variety of HD and SD workflows with Final Cut Pro or Adobe Premiere Pro thanks to Matrox MXO2 LE's 10-bit hardware up/down/cross scaling engine and support for a wide variety of file-based formats and industry-standard codecs.

Key Features:
- Works with PCs and Intel-based MacBook Pros
- Lightweight
- Fits in your laptop bag
- 4-pin XLR power connector for AC or field battery operation
- HD/SD SDI, HD/SD analog component, Y/C, and composite inputs and outputs
- Genlock - SD analog black burst (bi-level) or HD tri-level sync
- 10-bit HDMI input, output, and monitoring with calibration controls including blue-only
- 10-bit real-time hardware up/down/cross conversion on capture and output
- Up to five user selectable simultaneous video outputs: HD and/or SD on HDMI, SDI, and analog
- RS-422 machine control for frame-accurate capture and print-to-tape
- Captures to virtually all Mac and PC codecs, including Apple ProRes 422 HQ and 10-bit uncompressed HD
- File-based workflow support - XDCAM, XDCAM HD, XDCAM EX, P2, P2HD
- RED workflow support
- HD-SDI closed captioning support
- Works with Final Cut Pro, Apple Color, Adobe Premiere Pro, Adobe After Effects and all QuickTime applications that support the V-out component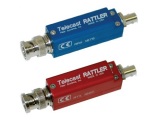 Telecast's Rattlers are miniature fiber optic serial digital video transmission modules that offer the industry's broadest range of digital rates while maintaining the signal quality that broadcasters demand. Rattlers handle your HD-SDI as well as your standard definition signals. No matter what your format, the Rattlers allow you to transmit:

- 19.4 Mbps SMPTE 310M
- 143 to 540 Mbps SMPTE 259M
- 1.5 Gbps SMPTE 292M HDTV
- DVB/ASI

They also work on both multimode and singlemode fiber. That means you are always ready, no matter what fiber you have available. At just three inches in length, these tiny modules can be deployed almost anywhere.

Read more...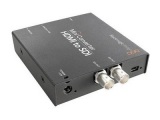 The Mini Converter HDMI to SDI from Blackmagic Design will accept an HDMI signal and convert it to 2 SDI outputs. You can also choose to embed audio from balanced AES/EBU or analog audio inputs. Use this device to add SDI output to cameras with HDMI connections or add SDI outputs to computers with HDMI or DVI connectors.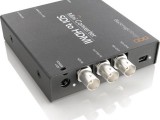 The SDI to HDMI Mini Converter from Blackmagic will accept an SDI signal and convert it to an HDMI output. You can also choose to de-embed SDI audio to balanced AES/EBU or analog audio outputs. Use this device to connect SDI-based equipment to big-screen televisions, video projectors, and other HDMI displays.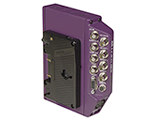 The DVC-800 is the latest in camera-adapted conversion devices from Miranda and was designed to enhance electronic acquisition of material using HD cameras like the SONY HDCAM (DVC-800) or Panasonic Varicam (DVC-820).

Read more...



Download:
PDF, Downconverter Operation and Installation Guide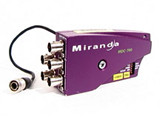 The MDC 700 is a small and compact High Definition downconverter which fits unobtrusively on the side of a Sony HDW 700A or HDW F900 High Definition Camcorder. It converts HD component analog output to NTSC or PAL composite video, allowing the use of standard definition equipment for monitoring. It is ideal for any High Definition shoot.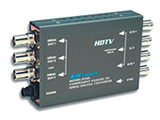 The HD10A is an Analog to Digital HDTV signal converter; it accepts a 3-wire Component HDTV analog video signal (and sync) and converts to HD-SDI digital HDTV signal. This unit can also operate as a DA offering 3 identical HD-SDI output signals.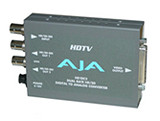 The HD10C2 is a signal converter that decodes a digital High Definition (BNC) Video signal to an analog High Definition (13W3) Video signal. This device comes with a breakout cable and features a miniature size. The featured upgrade is the ability to accept standard SDI and convert to YUV, RGB and composite.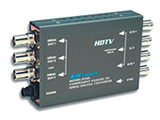 The AJA HD10MD3 accepts a High Definition SDI digital video signal and downconverts to output Standard Definition SDI digital video. It also features the ability to output Standard Definition Analog Component video utilizing D to A conversion circuitry.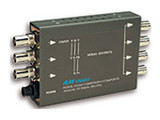 The D10AD will accept a component, composite or Y/C analog video signal and convert the signal to an SDI digital video signal.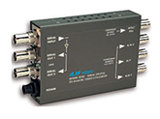 The D10C2 is a digital video to analog video converter; it accepts an SDI digital video signal and converts it to standard analog component, composite and Y/C video.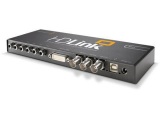 HDLink connects post production quality SDI video directly to any supported DVI-D based LCD computer monitor for incredible true HDTV resolution video monitoring. Because every single pixel in the SDI video standard is mapped digitally onto the pixels of a 1920 x 1200 resolution LCD display, you get a perfect digital pixel for pixel HDTV.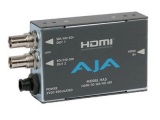 The HA5 HDMI to SD/HD-SDI Video and Audio Converter from Aja converts (1) HDMI signal to SD- or HD-SDI output and is capable of embedding up to (8) channels of HDMI audio into the output signal for a single-cable audio-video connection. It features (2) SD/HD-SDI outputs.

This unit equalizes the input signal to support extended HDMI cable runs of up to 131'. PLL clock filtering is included to produce low jitter on output signals. LED lights provide a visual indicator of line status. It does not support HDCP content, meaning copyright-protected media may not display correctly with this device.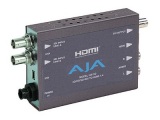 The AJA Hi5-3D Mini-converter combines dual 3G SDI inputs to form various multiplexed 3D formats for output on true 3D HDMI 1.4a and SDI monitors. It supports both 2D and 3D inputs using 2 BNC connectors and offers a simple and flexible stereoscopic view on 3D monitors and projection systems ideal for use in postproduction work of 3D formats.

EDID transactions are made possible due to Hi5-3D's true HDMI 1.4a output, and the transactions make configuring 2D/3D functions fully automatic for use with various HDMI monitors. The mini converter frame-synchronizes SDI 2 input to input SDI 1 in 3D modes, and embeds SDI input in both HDMI and SDI outputs. It also features user controlled channel selection for 2 RCA audio output channels.

Features:
- Combines Dual 3G/HD-SDI (Auto-selected)
- Output on 3D HDMI 1.4a / SDI Formats
- Simplifies Postproduction Work for 3D
- Simple / Flexible Stereoscopic View
- EDID for Multiple Display Support
- Synchronization of SDI 2 to SDI 1 in 3D
- SDI Input Embedded into HDMI/SDI
- Channel Selection for RCA Audio Output
- Features Various Modes / Image Flip
- User Control using Dipswitch/USB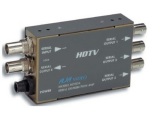 The HD5DA 1x4 HD-SDI Distribution Amplifier from AJA accepts an HD-SDI digital video signal and outputs four identical signals for distribution. The input adapts to various formats of HD-SDI automatically.

Input: (1) HD-SDI, SMPTE 259/292/296 auto select, on a BNC connector.
Output: (4) HD-SDI, 143Mbps to 1.5Gbps, on four BNC connectors.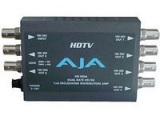 The HD-10DA 1x6 SD/HD-SDI Distribution Amplifier from AJA accepts one SDI digital video signal and outputs six identical HD-SDI/SDI digital video signals.

Input: (1) HD-SDI, SMPTE 259/292/296 auto select, on a BNC connector. This device automatically adapts to 143, 177, 270, 360Mbps and 1.485Gbps SDI and SDI-HD inputs. The input is re-clocked and equalized to 900' (300m) of cable.

Output: (6) HD-SDI, 143Mbps to 1.5Gbps, on six BNC connectors.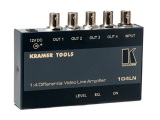 The 104LN is a unique piece of equipment that combines the functions of a distribution amplifier and a line driver. It accepts one composite video input and distributes a signal to four buffered outputs; gain and EQ controls are used to adjust the output level and equalization. The controls are used to compensate for signal losses in such situations as long cable runs. This model offers a differential input for noise elimination.

Controls
- The gain control adjusts the level of the overall signal; the EQ control boosts the upper frequencies that are inherently most susceptible to loss.

High Bandwidth
- At 400 MHz the bandwidth of this unit exceeds all standards for passing a composite video signal.

AC or DC Operation
- This unit comes with an AC power supply as standard equipment but, can also be powered from 12 VDC portable supplies for applications where AC power isn't easily accessed.

Differential Input
- The step up feature of this model is the "differential input" offering noise elimination features.