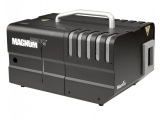 NOTE: We give you two identical machines for the price of one. ROGO! (Rent One Get One)
INCLUDES Haze Fluid
Read instruction sheet and notice labels carefully for best results.

ATTN: Over the years we have found that these have and fog machines can occasionally stop working without notice. These Martin haze machines have a remote controller and if you accidentally touch the "Fog/Time Engage" button more than once the programming can become confused. Sometimes a spec of dirt will stop fog or haze. You have a backup which should be kept heated so you do not lose any precious production minutes.



The Magnum 2500 Hz is an easy-to-use, plug-and-play hazer for DJs or when a simple haze solution is needed in smaller venues, clubs, and bars. Its large fluid container and optional DMX also make it suitable for a large variety of installations.

The compact Magnum 2500 Hz uses a 900 W heat exchanger to effortlessly punch out a full 2500 m cubed/min of uniform haze for mid-air projection or atmosphere enhancement.

This rugged yet portable hazer heats up fast and is continuously operational for a trouble-free 'set it and forget it' effect. Its large 3.8 liter fluid capacity (1 US gallon) provides for extremely long runs when needed.

Haze output and on/off timing are controllable via a handy remote control that can be conveniently stored in its own compartment.

The Magnum 2500 comes complete with all the technical excellence you expect from the Magnum range, and like all Magnum products the Magnum 2500 incorporates advanced Jem technology like new electronics, machine-saving overheat protection and fluid-out sensing.
Features:

Continuous output
Output and density level control
2500 m/min fog output
Integrated fan
900 W heat exchanger
3.8 liter fluid capacity
Fluid-out sensing
Optional DMX interface
Timer and output level remote control
Internal remote control storage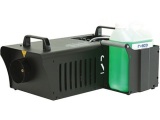 The Rosco Vapour Plus Fog Machine is designed specifically to fill large venues and outdoor spaces by producing large amounts of fog quickly and efficiently. The sophisticated software driving the Vapour Plus precisely balances the heating and pump cycles to ensure you have enough fog when you need it. At 100% output, the Vapour Plus will run for a full 60 seconds before a short re-heating cycle is needed, and the output of this machine is capable of consuming more than 7 liters of fluid per hour.

This fogger is small enough to mount inside a box truss and is powered from a single mains circuit. A rotating bottle carriage allows the Vapour Plus to be placed in either the traditional horizontal position or in a vertical orientation. This feature, coupled with the large fog blasts produced by the Vapour Plus, allows the machine to produce cryogenic-type burst effects without the hassle of handling or storing large dewar tanks of C02.

Two control options are standard in the Vapour Plus: a detachable timed remote offers convenient local control of output & operation, and an integrated DMX interface allows programmed fog effects via a lighting desk. For maximum versatility, a Multi-Link feature allows a single Vapour remote to control up to four Vapour, Vapour Plus, or V-Hazer units that are daisy-chained together via 3-pin XLR.

Includes ONE four liter bottle of fog juice.

The burn rate is approximately is 30 - 45 minutes per liter of continuous fog.

Additional four liter bottles of fog juice are $79.95 each.