Rent Portable Air Conditioning
24 Hour Delivery Service
We deliver anywhere and we do it around the clock.


Setup Installation and Ducting
If the machine can not stand alone we will send a tech or crew to install a machine or machines just about anywhere.

We have carried the big units up stairs and ducted them into almost impossible locations where there is no power or no facility for ducting to deal with the supply (cold) or exhaust (hot) air.

Conversion: 12000 BTU = 1 Ton

Airrex USA has designed a complete line of industrial portable air conditioners utilized for economical spot cooling solutions in server rooms,industrial plants, hospitals and commercial office spaces Data storage rooms and electrical closets are typical applications for these portable air conditioners. The Airrex portable air conditioner has a removable condensate tank or optional condensate pump.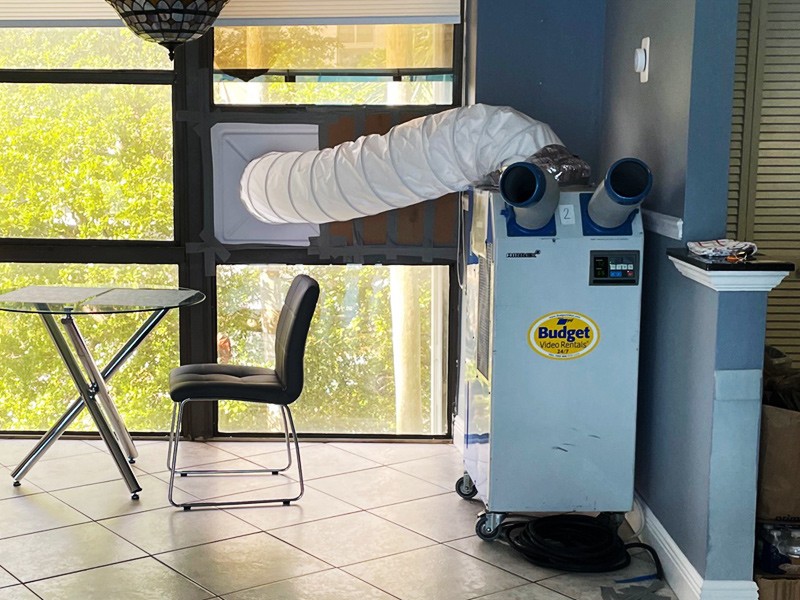 Features:
Cooling Capacity: 17,600 BTU
Size (W x D x H): 19.3 x 23.6 x 48.3
Weight: 185 lbs
Power Supply: 1ph/115V/60Hz
Air Filter: Aluminum
Current Consumption (AMPS) : 15.6
Circuit Breaker Size (AMPS): 20
Rated Power Consumption (Cooling): 2.1
Compressor Input: 1.63
Air Flow (CFM, High/Low) Evaporator: 540/500
Motor Input: 0.38
Nema Plug: 5-20
Power Cord: Plug Type
Static Pressure: 0.04
Power Cord Length: 10
Outlet Air Velocity: 38~33
Outlet Temp Difference: 50~53.6
R-22 Charge: 1.96
Operating Conditions: 60 F DB 60%RH - 113F DB 40% RH
Max Duct Length: 45

ALL AIR CONDITIONERS MUST BE TRANSPORTED VERTICALLY OR SERIOUS DAMAGE WILL RESULT.

NOTE THAT THEY WILL NOT FIT IN A REGULAR CAR OR MOST SUV'S.
THIS UNIT IS 60INCHES (153CM)TALL MINIMUM.

Installation:
Our technicians can install one or multiple units at your location. We will make sure everything is configured and working properly. Please call us for details.

More Details...



Download:
PDF, Instruction Manual

Hisense 12,000-BTU 400-sq ft 115-Volt Portable Air Conditioner
Stay cool and comfortable without needing to install a heavy air conditioner in the window or affecting the exterior appearance of your home. The Hisense 12K BTU high-flow air conditioner has four caster wheels, an easy-to-install window kit for windows 18" to 50" wide, an I-Feel™ remote with a built-in temperature sensor, and a programmable clock. Three modes (cool, dehumidify or fan) make the 12K BTU portable air conditioner a real workhorse.

Features:
- 12,000 BTU portable air conditioner cools up to 400-sq ft to ensure your comfort
- Precise temperature control with I FEEL sensor
- Large LED electronic touch controls to operate easily
- Auto-swing louvers to enable multi-dimensional air flow
- One Touch Comfort - smart mode automatically sets temperature for perfect comfort, all at the touch of a button
- 24 hour on/off real timer
- Easy and comfortable movement with casters
- LCD multi-functional remote control allows you to cool down
- Removes up to 2.96 pint of moisture from the air in an hour to control humidity

More Details...


Need to provide cooling at an outdoor event, in a large tent, or temporary event structure? We have your solution! This is NOT a misting device!

More Details...