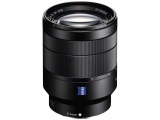 This lens is a compact full-frame option that covers wide-angle to short telephoto perspectives for working with a variety of different shooting styles and subjects. A constant f/4 aperture makes operation smooth and consistent throughout the zoom range. The lens further benefits from the use of one extra-low dispersion element and five aspherical elements to combat aberrations as well as a Zeiss T* anti-reflective coating to keep flare and ghosting to an absolute minimum. The lens is fast to focus as well due to the linear autofocus motor and an internal focus design. Additionally, the dust- and moisture-resistant lens is equipped with Optical SteadyShot image stabilization to reduce the effects of camera shake, and it has a seven-blade circular diaphragm for smooth bokeh.

Features:
- E-Mount Lens/Full-Frame Format
- Aperture Range: f/4 to f/22
- One ED and Five Aspherical Elements
- Zeiss T* Anti-Reflective Coating
- Linear Autofocus Motor; Internal Focus
- Optical SteadyShot Image Stabilization
- Dust and Moisture-Resistant Construction
- Seven-Blade Circular Diaphragm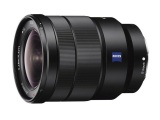 With a dust and moisture resistant design, the compact and lightweight Sony Vario-Tessar T* FE 16-35mm f/4 ZA OSS Lens covers your wide-angle zoom needs and is designed for full-frame E-mount cameras but can also be used on APS-C E-mount cameras as well. A constant f/4 maximum aperture offers consistent performance throughout the zoom range. Benefiting working in dim light is Optical SteadyShot image stabilization, which serves to minimize the appearance of camera shake by up to four shutter speed steps.

Features:
- E-Mount Lens/Full-Frame Format
- Aperture Range: f/4 to f/22
- One AA Element, Four Aspherical Elements
- Three ED Elements
- Zeiss T* Anti-Reflective Coating
- Linear Autofocus Motor; Internal Focus
- Optical SteadyShot Image Stabilization
- Filter Diameter: 72mm
- Dust and Moisture-Resistant Construction
- Seven-Blade Circular Diaphragm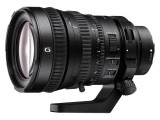 Designed to satisfy 4K production requirements, the Sony FE PZ 28-135mm f/4 G OSS Lens is a wide-ranging zoom lens that covers wide-angle to telephoto perspectives while adding many features for your full-frame, APS-C, or E-mount camcorder or still photography camera system. The lens features a powered zoom control with a variable speed and zoom rotation direction reversal capability. Powering the zoom function is an SSM (Super Sonic wave Motor) drive that allows precision and quiet operation. Focus noise is also minimized through weight reduction of the focus element group and use of a linear motor. Iris function is also designed to be smooth and silent for cinematography demands.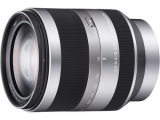 The E 18-200mm f/3.5-6.3 OSS LE Lens from Sony is significantly smaller and lighter than comparable lenses, and is a high magnification zoom lens perfect for a wide range of shooting situations with Sony's NEX series and APS-C format E-mount mirrorless cameras or camcorders. With a compact size, achieved in part by downsizing the autofocus motor and optical image stabilization unit, the lens offers a powerful mix of versatility and image quality. This is perfect for shooting where a light, compact camera and lens combination is ideal.

Specifications
- E-Mount Lens/APS-C Format
- 27-300mm (35mm Equivalent)
- Aperture Range: f/3.5-6.3 to f/22-40
- Four Aspherical & Two ED Elements
- Linear Autofocus Motor; Internal Focus
- Optical SteadyShot Image Stabilization
- Minimum Focus Distance: 1.6'
- Filter Diameter: 62mm
- Seven-Blade Circular Diaphragm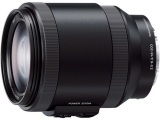 Make sure you have the right tool for both stills and movies with this E PZ 18-200mm f/3.5-6.3 OSS Lens from Sony. Equipped with a power zoom mechanism that can be set to different speeds, users will enjoy smooth, precise zooms during their videos. Designed for APS-C-format E-mount cameras, shooters will be able to make good use of the lens' vast zoom range, which is equivalent to 27-300mm. Also, it has a variable f/3.5-6.3 aperture to keep the overall size to a minimum and uses extra-low dispersion and aspherical elements to combat aberrations.

Ensuring sharp images at all focal lengths is built-in Optical SteadyShot image stabilization to reduce the effects of camera shake. Also, it has an internal focus design which prevents the lens from changing length during focusing. Additionally, it is equipped with a seven-blade circular diaphragm for smooth bokeh.


- Designed for APS-C-format E-mount cameras, this 18-200mm offers users a vast wide-angle to super telephoto range equivalent to 27-300mm.
- A variable f/3.5-6.3 maximum aperture helps keep the lens' overall size and weight to a minimum.
- Extra-low dispersion glass is featured in the lens design to help reduce chromatic aberrations and color fringing for improved clarity and color neutrality.
- Aspherical elements are incorporated in the lens design to reduce astigmatism, field curvature, coma, and other monochromatic aberrations.
- Optical SteadyShot image stabilization helps to minimize the appearance of camera shake for sharper imagery when shooting handheld with slower shutter speeds. This stabilization system can be combined with select camera's sensor-shift type image stabilization for more effective control of camera blur. This lens also offers an Active Mode which provides stabilization, even at the wide end, when shooting movies.
- Enjoy smooth zooms ideal for shooting movies with the power zoom mechanism which can have its speed adjusted to suit different styles and needs.
- An internal focus mechanism contributes to faster, more responsive autofocus, the minimum focus distance of 11.8", and easier handling as the lens does not change in length during use.
- Rounded seven-blade diaphragm contributes to a pleasing bokeh quality when employing selective focus techniques.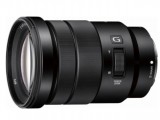 This G Lens for E-mount cameras delivers stunning still or movie imagery with the flexibility of 6x power zoom. Maximum aperture is a constant F4 from 18 mm wide angle to 105 mm medium telephoto, with excellent resolution and contrast throughout. A lever and ring on the lens barrel allow zoom speed to be freely adjusted as required while maintaining a sure, stable grip.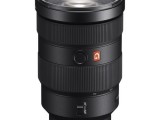 A fast, standard zoom favored for its versatility, the Sony FE 24-70mm f/2.8 GM is a wide-angle to short telephoto lens designed for E-mount mirrorless cameras. Featuring a constant f/2.8 maximum aperture, this lens maintains consistent performance throughout the zoom range and benefits working in low-light conditions and with selective focus techniques. Complementing the apt light-gathering capabilities is an equally impressive optical design, which incorporates three aspherical elements and two extra-low dispersion elements. One of the aspherical elements features an XA (extreme aspherical) designation, ensuring its refined surface precision and notable ability to minimize spherical aberrations throughout the zoom range.