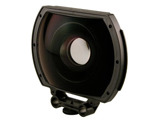 [
+ enlarge
]
The Century Xtreme Fisheye produces extreme wide angle of view with profound barrel distortion. The Ultra wide Fisheye lens attachment offers the highest grade optics available with the widest field of view with very little barrel distortion. Horizontal field of view of view is approximately 160 degrees (180 degrees to the corners).

Applications include shooting action sports, underwater photography, music videos, or that dramatic impact shot in tight environments where capturing the field of view is otherwise impossible.

Includes HVX Matte box support which is required in order to fit the lens to camera.

More Details...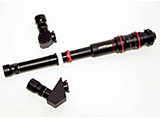 [
+ enlarge
]
InnoVision's tubular lens, the HD Probe, offers superior optics and light transmission for High Definition Video (HD), while the system's unique periscope attachment lets operators shoot from an ultra-low perspective. The HD Probe has interchangeable Straight, 45 and 90 Periscope attachments. Completely waterproof, the HD Probe is ideal for commercials, music videos, product photography and feature films.
The HD Probe features high resolution glass elements and relay optics-for images with remarkable edge-to-edge sharpness, flat field, and extreme depth of field. State-of-the-art multiple coatings provide sharp, low dispersion images.
includes bore relay, B-4 mount, 5mm, 8mm, 12mm, 17mm, and 23mm lenses, shim kit, 3 "O" rings, and 90 degree prism

More Details...