Rent

Miniature HD Cameras

These miniature High Definition cameras are perfect for tight spaces, reality shows, p.o.v. shooting, and camera angles that would be impossible with a regular camera.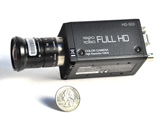 The one-piece ultra compact IK-HR1S with HD SDI output offers a superb 1920 x 1080 HD image (Interlaced) and 1280 x 720 (Progressive) ideally suited for broadcast, scientific and industrial applications.
- Onboard CCU
- Economically priced
- 1/3" 2 Million pixels C-MOS sensor
- C mount
- HD-SDI output
- HDTV Format Output 1920 x 1080 Interlaced, 1280 x 720 Progressive, Switchable
- PAL or NTSC switchable
- Ultra compact one-piece camera body
- Digital Noise Reduction
- Auto electrical shutter
- Auto / manual white balance
- Gain function in great detail
- Serial command setting via RS-232C

Note:
This camera is not compatible with the Bluefish 2.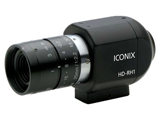 Iconix HD-RH1 1/3" Progressive 3CCD HDTV Camera. A revolutionary High Definition remote head point of view camera system providing a high-performance, multi-format solution in a small package. Available with the Fuji 4mm, 2.8mm lens, and/or the Tamaha 2mm lens. Camera head cable lengths of 10m and 15m. Includes Iconix CCU.

Multi-Format:
720p @ 24,25,30,50 and 60 Hz
1080i @ 50 & 60 Hz
1080p @ 24, 25, 30, 50 and 60 Hz
700 Lines (720p), 900 Lines (1080i/p)
SDI, DVI-D, and Analog Outputs
14-Bit Quantization
Electronic Shutter and Enhancement
Programmable Gamma Function
Genlock and Remote Control


Download:
PDF, Operator Manual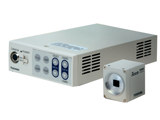 True High-Definition from the World's Smallest Camera Head. The IKHD1, Toshiba 3CCD HDTV Camera System, gives you the sharpest, clearest, true color imagery available from the most compact HD camera on the market. The IK HD1 3CCD HD Camera's unique prism block technology delivers impeccably sharp detail from a 1.6" micro hd camera head. Let Toshiba bring your project to HD life. RS232C protocol IK-HD1 is also available.

This camera is compatible with the Bluefish 2 underwater housing.

Read more...