With the 6K RED DRAGON® sensor, you can capture over 9x more pixels than HD. Unrivaled detail and impressive native exposure eclipse 35mm film in both latitude and image density. Industry leading specs distinguish the EPIC DRAGON as a model for image innovation, helming the evolution of digital cinema technology.

Resolution is more than just attention to detail. From large objects to granule textures, 6K images cultivate the nuance of every image, leaving nothing behind. Improvements to micro-contrast and MTF produce a cleaner image, drastically reducing moiré and aliasing artifacts. When outputting 6K files to 4K or HD, your image will appear more refined and detailed compared to those captured at lower resolutions. The choice is simple; Bigger is better.

(1) Epic Dragon Body (PL Mount or EF Mount available)
(1) REDtouch onboard 5" LCD monitor with EVF and LCD Cables
(1) REDmote
(4) RED Brick V-Mount Batteries
(2) RED Brick Dual chargers
(1) RED SSD 256gb
(1) RED USB 3.0 SSD Reader
(1) Rod adaptor base plate for 15" or 19" rods
(1) Timecode and audio cables
(1) Top Handle

OPTIONAL:

Additional 256 gb cards = $149/each
Additional 64gb cards = $75/each
(1) RED Bomb EVF: $75
(1) DSMC Side handle with four RED volt batteries and a quad charger: $75
(1) RED Clutch handheld rig = $149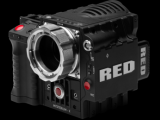 EPIC ushers in the next generation of digital cinema, featuring a 5K sensor capable of capturing 1 to 120 frames per second at full resolution. From fashion spreads to 3D IMAX features, EPIC has crossbred elite photography with unrivaled cinema capabilityall in a camera the size of a DSLR. In challenging lighting conditions, EPIC makes it easy to adapt with its ability to reach up to 18 stops of dynamic range with HDRx. Remarkable technology packed into a 4lb body - with EPIC, less is more.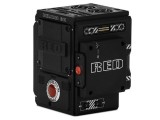 RED cameras deliver stunning resolution and image quality-creating clean and organic images that bring your footage to life. The MONSTRO and HELIUM sensors take the next step in exceeding beauty offered by film - up to 17x more resolution than HD-and over 4x more than 4K. For flexibility in any situation, GEMINI is RED's highest sensitivity sensor to date and offers significantly increased performance in low-light settings and improved performance in shadows. A DSMC2 BRAIN is capable of data write speeds of 300 MB/s, and can simultaneously record in REDCODE RAW and Apple ProRes or Avid DNxHR/HD.


With features like cable-free peripherals, integrated media bay, wireless control, and more-DSMC2 is also compatible with a growing arsenal of modules and accessories-from RED and other Third-Party manufacturers. Tack on interchangeable OLPFs and lens mounts and DSMC2 gives you the ultimate control over your footage.


NOTE: The DSMC2 BRAIN® itself does not have a DC IN power port. A port expander or power module is required to power the camera. To construct a working configuration for any BRAIN, RED recommends an expander, battery, lens mount, display, and media.


NOTE: All DSMC2 BRAINs ship with a standard OLPF; an OLPF 2-pack is available for Skin Tone-Highlight and Low Light shooting environments.

Product Highlights
8K Super 35mm CMOS Sensor
8192 x 4320 Recording up to 60 fps
REDCODE RAW, ProRes, and DNx Recording
High-Speed Recording up to 300 fps in 2K
Records to RED MINI-MAG Media
Uses DSMC2 Accessories
Interchangeable Lens Mounts
Aluminum Alloy Construction
12/24/25/30/48/50/60 fps and Higher