RC-10 is quick and easy to install for full size broadcast camcorders, When caught out in a sudden downpour, just throw the cover over the camcorder for immediate protection, and then adjust all the fittings; lens, viewfinder, mic, etc.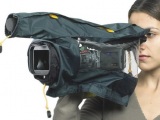 [
+ enlarge
]
CRC-14 is the perfect compact rain cover for HDV camcorders such as the Canon XH A1, G1, Sony V1, VX2100, PD170, Panasonic DVX100 and similar.

It features quick and easy set up, pull tight cords, Hook & Loop strips all along the rim for rapid opening and closing, and a full size transparent window to monitor all controls when working.