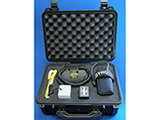 [
+ enlarge
]
The Kenyon Gyro Stabilizer by Kenlab is a small, battery-powered, pod-like case that screws into a tripod socket and "floats" the camera in free space with only its weight supported by your hands. The device is maintenance free, works with any camera, and, best of all, retains the freedom and speed of handheld shooting.

*Weight of this unit is 8 pounds (not including battery)

Kit includes gyro, two batteries, inverter and charger.