K-Tek
Since its' founding in 1996 by Manfred N Klemme, K-Tek has been supporting the audio world with innovative tools to make the job of the sound engineer and boom operator just a bit smoother. With a passion for audio, Manfred's first mission was to design and manufacture a line of U.S.made boom poles that were both lightweight yet super strong and so audio friendly that folks took notice. Mission accomplished. In 1999 K-Tek won a Technical Achievement Award from the Academy of Motion Picture Arts and Sciences for the Klassic Boom Pole. Since then, K-Tek has earned a slew of other awards and the reputation of making an array of elegantly designed and beautifully constructed,audio-centric products.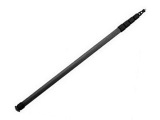 [
+ enlarge
]
The K-TEK is a very lightweight, superbly engineered, and meticulously crafted 5 section boompole made from a graphite fiber derivative in a black matte finish. It is used primarily for film and video field production.

The dimpled graphite section collar locks are highly durable and jam resistant, twist adjusting easily and precisely. The Quick Connect poletop option, featuring stainless steel threading and cable retention slots, is standard with this model, adapting a variety of mounting and wiring solutions.

When in the past we rented a boom pole by itself the sheer number of really bad client production days was more than we could ignore. We tried requiring the client to bring their mic into the office for a "custom fitting." We finally found that giving boom poles effectively free together with a $1000 Sennheiser 416 microphone kept everybody happy and avoided microphones falling on the floor or not fitting into the boom pole. Accordingly we hope you understand that a pole rental on its own is more dangerous than spending a few more dollars and being fully functional from the start of production.