Markertek
Markertek is a highly specialized broadcast and pro-audio supply house serving the technical side of the media industry with over 60,000 unique solutions at reasonable prices - supported with dependable advice from actual pro-audio and video professionals. The Markertek catalog has achieved cult status among digital media professionals as the ultimate design tool for creating the electronic infrastructure required to produce the majority of primetime television shows, feature films, commercials and chart-topping music hits, as well as all other areas in the audio and video industry.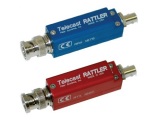 [
+ enlarge
]
Telecast's Rattlers are miniature fiber optic serial digital video transmission modules that offer the industry's broadest range of digital rates while maintaining the signal quality that broadcasters demand. Rattlers handle your HD-SDI as well as your standard definition signals. No matter what your format, the Rattlers allow you to transmit:

- 19.4 Mbps SMPTE 310M
- 143 to 540 Mbps SMPTE 259M
- 1.5 Gbps SMPTE 292M HDTV
- DVB/ASI

They also work on both multimode and singlemode fiber. That means you are always ready, no matter what fiber you have available. At just three inches in length, these tiny modules can be deployed almost anywhere.

More Details...