Libec
In 1989, Libec was launched as a global brand to offer professional camera support equipment and to respond with technological advances for the evolving image industry. Initially, the main lineup of Libec series were tripods and fluid heads for professional video users. Now, Libec has a wide range of camera supports including pedestals, a telescopic jib arm, an electronically-controlled remote head, remote controls, dollies, tracking rails, and more. Libec has not only achieved high repute in Japan, but also continuously gaining popularity worldwide.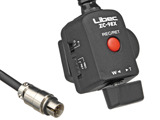 [
+ enlarge
]
The Libec ZC-9EX is a zoom controller designed specifically for the PMW-EX1 camcorder as well as Fujinon and Canon ENG lenses. The unit allows users to turn the handheld camcorder into a capable studio camera.

More Details...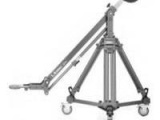 [
+ enlarge
]
The Libec JB-30 Heavy Duty Kit with T102 Tripod and DL-8 Dolly is a full-featured jib that supports film or video cameras weighing up to 44 lbs (20 kg). The head attachment is adaptable between 75mm and 100mm, and may be reversed when an ant's-eye point of view is desired. Standard barbell-type plates (not included) are employed for the counterweight, and the whole assembly sets up and breaks down in a simple, logical manner.

Camera mounting bowl accepts either 75mm or 100mm heads
Head mount inverts easily for extremely low camera angles
Fast, logical setup and breakdown procedure .

Product Highlights
JB-30U Jib Arm
T102 Tripod
DL-8 Dolly
Supports Up to 44 lbs (20kg)

SPECIFICATIONS
Construction: Aluminum and stainless steel
Payload Capacity: 44 lbs (20kg)
Counterbalance System: Barbell plates
Height Range: 7' (2.1 m)
Tripod Attachment: 100mm
Head Attachment: 75mm or 100mm bowl
Head Arm Leveling: Parallelogram-type secondary brace
Weight: 22 lbs (10kg)

More Details...